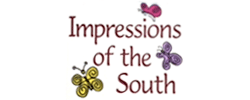 North Augusta, SC (PRWEB) October 23, 2012
Fall has arrived at Impressions of the South, 508 West Avenue, North Augusta, South Carolina.
Seasonal decorations have begun to appear throughout the store. Pumpkin spice and maple walnut hand-made truffles are in the case. Carmel mudslide flavored coffee beans sit on the shelf waiting to be brewed. Jack-o-laterns and scarecrows are popping up everywhere and beautiful autumn colors of deco mesh fill the back room. They are ready to show our team spirit with Clemson, USC, and UGA products.
The wreath making classes are winding down for the year, so any interested customers should sign up now and learn how to create a fall deco mesh door wreath that will be the envy of the neighborhood. Impressions of the South carries everything you need to accomplish this task. They will supply the easy to use work wreath form, 10 and 20 inch wide deco mesh, ribbons, ribbons and more ribbons, and all the accents you need to create the one-of-a-kind holiday decoration.
Impressions of the South continue to provide a variety of unique gifts for men and women, young and old. They have something for everyone. Women love our selection of hand bags, scarfs and jewelry. Men are surprised with have shaving brushes and soap. Everyone loves the dip mixes, jelly and pie-in-a-jar.
Don't forget to follow us on Facebook for daily post of iced tea flavor and cupcakes, announcements of store events and wreath class schedules, photos of "new arrivals" of merchandise and an album of wreath photos from all of the classes.
Please visit our facebook at http://www.facebook.com/impressionsofthesouth.
About the company:
Impressions of the South is a local gift shop with southern charm in North Augusta, SC. Eva and Jay Watkins have been in business for a year servicing the North Augusta community with coffee and teas, plus gifts for all occasions. Eva Watkins has just started offering wreath making classes that have taken off with the female population of North Augusta. Many of the wreaths made in her class are showing up on Pinterest and being shared on Facebook. For more information visit their website at http://www.impressionsofthesouth.com.