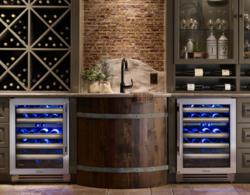 St. Louis, MO (PRWEB) October 01, 2012
—When you think of the color blue—seascapes, skies, fashion, swimming pools, and "baby blues" may come to mind. It's time to add refrigeration to that list. The patented TriLumina™ Lighting system by True Professional Series® transforms the ambiance of any entertainment space by adding a luxurious cool azure glow with the simple push of a button.
The True proprietary lighting system adds adjustable elegance to its latest products including the Dual Zone Wine Cabinet. Designed to fit every space and décor, the Dual Zone Wine Cabinet is crafted to accommodate up to 45 bottles of wine with two distinct temperature zones for perfect preservation and wine service no matter the varietal.
"With the added style feature of TriLumina LED lighting, consumers can be sure that their wines are stored in the ideal environment, while also having the flexibility to enhance the mood of any space. Combined with True's exclusive ratings for both indoor and outdoor usage, the Dual Zone Wine Cabinet can be enjoyed in any entertaining area," states True Director of Sales and Marketing, Steve Proctor.
Additionally, the TriLumina™ Lighting system will be integrated into True's new 15-inch undercounter series scheduled to launch in fall 2012.
ABOUT TRUE REFRIGERATION®
For more than 65 years, True Refrigeration® has been an industry leader in commercial refrigeration. Today, True Refrigeration is the leading choice among top chefs, hotels and beverage providers. Building on this success, homeowners can now experience True Professional Series®, an authentic, commercial refrigeration line refined for the home, including: wine cabinets, refrigerators, beverage centers, refrigerator drawers and beer dispensers. This new series is crafted with the same meticulous attention to quality and detail that top chefs and sommeliers demand. For more information about True and its True Professional Series®, please call 888.616.8783 or visit http://www.true-residential.com.