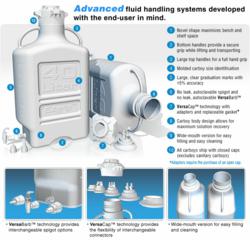 Two years of study were dedicated to ensure the EZgrip Carboy would exceed its users' expectations.
Kent, WA (PRWEB) October 02, 2012
The EZgrip™ Carboy is a pioneering fluid storage and transfer system now offered by Sterlitech Corporation. These carboys combine an ergonomic, space-efficient design with a series of interchangeable caps and spigots to make it ideally suited for a variety of laboratory settings.
"The EZgrip addresses the shortcomings of previous generations of carboys," declares Mark Spatz, president of Sterlitech. "Two years of study were dedicated to ensure the EZgrip Carboy could exceed its users' expectations."
Sterlitech offers the EZgrip™ Carboy in four different material types (polypropylene, copolyester, HDPE, and PFA) with volumes ranging from 2.5 L to 75 L. The 2.5 L and 75 L carboys are, respectively, the world's smallest and largest carboys in production today.
Rotary molded for maximum strength, each carboy features ergonomic handles and grips which makes them easy to handle and pour. Rounding out the carboy's capabilities are the VersaCap and VersaBarb attachments, which allow the carboy to support a variety of tubulation arrangements.
About Sterlitech:
Headquartered in Kent, WA, Sterlitech Corporation has been a leading manufacturer and marketer of precision filtration products and laboratory equipment since 2001. Our products, such as the proprietary Sterlitech Silver Metal Membrane and our custom-built bench systems, deliver industry-leading performance and versatility. Across the globe, scientists from a diverse array of disciplines rely on Sterlitech's technology.
# # #