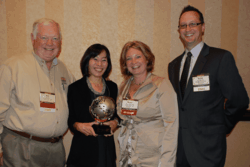 Ayako is a highly motivated individual who has vision as well as an attention to detail to see that things get done, and done well
Minneapolis, MN (PRWEB) October 04, 2012
Nakamura was certified in the Bob Pike Group Train-the-Trainer Boot Camp in 2007. Now, five years later, she has trained over 1,200 others in the participant-centered methods. She also worked to get two of Bob Pike's books translated into Japanese: the groundbreaking Creative Training Techniques Handbook and The Fun Minute Manager.
During a luncheon to celebrate DHC's achievement, Nakamura shared one example of how the interactive training methods have contributed to corporate bottom lines through increased retention. During one particular technical training using traditional lecture methods, only 12 percent of the learners who needed to utilize the technical process for their jobs could remember three of the four points they had heard. However, Nakamura shared, after using creative training methods and incorporating appropriate gestures, retention increased to 82 percent of the learners remembering three points.
In the last year, Nakamura has more than doubled her annual sales for Bob Pike programs and she is now working toward her master trainer certification in two programs.
For a business partner to be named international licensee of the year, they need to meet two of three criteria during the previous 12 months: Continued sales growth, Expansion of services through gaining additional certifications or attaining Master Trainer certification, Achievement of quality as demonstrated by high average evaluations by participants or examples of client results at levels three or four in the Kirkpatrick model.
"This award recognizes our licensees' efforts and ability to build their brand and grow their business in regard to The Bob Pike Group programs. Our licensees are highly valued members of a global family we seek to nurture and grow," said Roger Anderson, president of The Bob Pike Group. "Ayako is a highly motivated individual who has vision as well as an attention to detail to see that things get done, and done well. I'm not surprised at the growth of Ayako's company, and I expect continued excellence from her. It's a joy to see her honored in this way as she shares her enthusiasm for this hands-on training methodology that transcends culture and increases training retention," said Bob Pike, founder and chairman of The Bob Pike Group.
The Bob Pike Group has provided train-the-trainer workshops and consulting services to individuals and corporations for more than 30 years. Clients have been applying Bob's Participant-Centered Instructional System to build their learning organizations, to strengthen retention and to enrich desired results. For more information, visit http://www.BobPikeGroup.com.