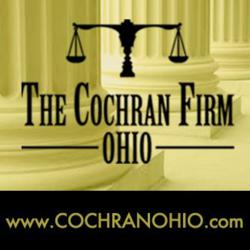 The Cochran Firm - Ohio, a leading full service, law firm handling injury cases throughout all of Ohio. For a FREE consultation call (513) 381-4878 or visit www.cochranohio.com
Cincinnati, OH (PRWEB) October 15, 2012
The Cochran Firm - Ohio, a leading full service, personal injury law firm with offices in Cincinnati and Dayton that represents Ohio auto / car accident victims throughout the state of Ohio, has filed a personal injury lawsuit on behalf of a Dayton woman who was injured in a collision with another motorist in July 2010. The Ohio auto / car lawsuit, which seeks compensation for the woman's injuries and damages, as well as for loss consortium on behalf of her husband, was filed in Montgomery County Common Please Court (12 CV 04586).
According to the complaint, the Plaintiff was operating a motor vehicle traveling on Peters Pike in Butler Township, Montgomery County, Ohio, when the Defendant negligently failed to yield the right of way at a stop sign, thereby striking the side of the Plaintiff's motor vehicle with great force. As a result of the Defendant's alleged negligence, the Plaintiff sustained, among other things, severe and permanent injuries to her neck, back, left leg, and left knee. The lawsuit further alleges that the due to the Defendant's negligence, the Plaintiff has experienced great pain and suffering, both physical and emotional, and loss of ability to perform usual functions now and in the future.
According to the Ohio State Highway Patrol, 553 motor vehicle accidents were investigated in Montgomery County in 2011, including 48 that involved fatalities. If you or someone you love was injured in car accident in Dayton or anywhere else in Ohio, it is vital you retain a skilled accident attorney to ensure your legal rights are protected. The Cochran Firm – Ohio offers free legal consultations to victims of motor vehicle accidents throughout Ohio. If you are seeking personal, dedicated and aggressive legal representation in the wake of an automobile accident, please contact The Cochran Firm today by visiting cochranohio.com, or call (513) 381-HURT.
About The Cochran Firm - Ohio
The Cochran Firm - Ohio, is a leading full service, personal injury law firm with offices in Cincinnati and Dayton that handles personal injury cases throughout all of Ohio. Founded over 40 years ago by famed attorney, Johnnie L. Cochran, Jr., The Cochran Firm - Ohio, has established itself as one of the premier personal injury law firms in the United States and has been recognized for delivering successful results to their clients across a broad range of claims stemming from car / auto accidents, personal injury, wrongful death, medical malpractice, nursing home abuse, premises liability, and product liability lawsuits. For over 40 years, The Cochran Firm - Ohio's team of highly experienced lawyers have continually fought for justice for all its clients. If you've been injured call Ohio's leading full service law firm, "The Cochran Firm – Ohio," today at 513-381-HURT.
Contact:
The Cochran Firm - Ohio
Call 513-381-HURT
The Cochran Firm – Cincinnati, Ohio
119 E. Court St. Suite 102
Cincinnati, OH 45202
Phone: 513-381-HURT
The Cochran Firm – Dayton, Ohio
130 West Second Street, Suite 1600
Dayton, Ohio 45402
Phone: 513-381-HURT