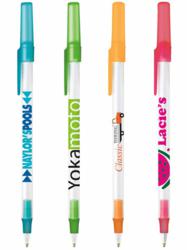 Seattle, WA (PRWEB) October 01, 2012
1234 PENS the number one source for logo and advertising pens in the United States and Canada, is pleased to offer its line of affordable promotional pens to trade show exhibitors. These pens can be easily customized with a company's logo and information, and shipped quickly to meet any exhibitor's needs.
Trade shows can include hundreds, even thousands of exhibitors at a single event, and attract more attendees every year. A free promo pens are a smart way for exhibitors to connect with potential clients, to stand out from the others in the crowd. When an attendee approaches a booth to take a free promotional pen, they provide that company with an opportunity to talk to them, get to know a little about them, and possibly do business together.
An advertising pen is a smart, cost-effective method for a company's sales staff to break the ice with potential clients. Promotional pens can be placed on the booth's display table, handed out directly to visitors, or included in gift bags given either by the company itself or by the event as a whole. A high-quality pen picked up at a trade show will travel back to the client's home or office, where it will be a physical reminder on their desk long after the company's business card has been filed away.
1234 PENS carries a large selection of affordable promotional pens, including pens from BIC, Paper Mate, Tenor, Omni, Sharpie and uni-ball. With most pens costing less than $2 per unit, these customized advertising pens can fit into any company's budget. Available in a number of eye-catching styles in both cap and click designs, each logo pen is completely customizable. Designs allow selection of up to ten different colors for the barrel and trim, while imprinting of logos and corporate information is available in up to 17 different ink colors. Many of these promotional pens can be customized and delivered to any location in the United States or Canada within 48 hours – click here for more information on 1234 PENS' fast pens service.
For more information on how 1234 PENS can provide quality customized promotional pens for trade show giveaways, call 1-888-844-7367 or order online at http://www.1234pens.com.
About 1234 PENS:
In business since 1976, 1234 PENS has helped thousands of clients increase brand awareness and customer loyalty through their high-quality products. 1234 PENS offers pens ranging to suit all budgets, and offers 48-hour deliver on a select number of designs.