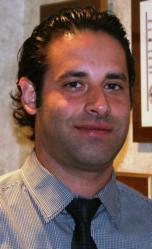 Brooklyn, NY (PRWEB) October 05, 2012
Dr. Navid Baradarian of Marine Park Periodontics & Implantology utilizes titanium dental implants as a proven method for replacing lost teeth. Because the titanium is actually implanted into the jawbone, it is very strong. In addition, the titanium is able to fuse with the bone and stimulate its growth, just like natural teeth. The dental crowns are designed to look like natural teeth and are a great addition to the smile.
Dental Implants have been studied for many years and many people who received an implant more than 20 years ago are just as happy with them today as they were when they received them. In 97 percent of cases, the implant will integrate very well with the bone and help to strengthen the jaw. An implant can be used to replace individual teeth or to replace multiple teeth. They can be used as part of a bridge or even to support dentures. An implant is an excellent choice for most people. In some cases additional dental work may be required before an implant can be installed.
The implant is made up of three parts: the implant, the abutment and the crown. The actual implant is installed and a temporary crown may be provided until the implant has fully integrated with the bone. Next, the abutment is attached to the implant and a shorter healing time is needed before the crown can actually be fitted to the abutment. The crown is carefully shaped so that it is the correct size, and it is colored so that it matches the surrounding natural teeth.
Dr. Baradarian understands that there are many reasons that teeth may be missing, but wants patients to know that the effects of missing teeth can be detrimental no matter how they were lost. Getting an implant as a replacement can strengthen the jaw and help a person eat better, in addition to improving the smile. More information about dental implants can be found at http://www.marineparkperio.com.
Marine Park Periodontics and Implantology is a periodontal practice offering patients personalized dental care for Brooklyn, NY. Dr. Navid Baradarian became a Doctor of Dental Surgery at State University of New York at Buffalo School of Dental Medicine; he earned a Certificate with honors in Productivity and Patient Care from New York University Advanced Education in General Dentistry - New York, NY, and received extensive training in implant dentistry; he achieved his Specialty Certificate in Periodontics at University of Medicine and Dentistry of New Jersey. Dr. Baradarian is part of one percent of dental professionals providing the most recent FDA cleared laser procedure for gum disease and periodontal treatment. To learn more about Marine Park Periodontics and Implantology and their dental services visit their website at http://www.marineparkperio.com and call (347) 586-5997.