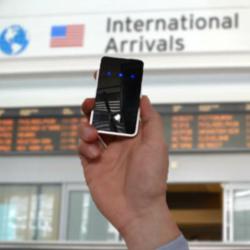 PiFi products and Services are a unique and intelligent implementation of leading edge technologies and telecom services offering through a single website
Toronto, Ontario (PRWEB) October 01, 2012
Today Ecocarrier launches PiFiZone through Indiegogo to attract support for it's products and services that make mobile data services for WiFi-enabled devices ubiquitous and affordable for all travelers as well as making international voice calls dialled from Smartphones via IP telephony from anywhere to be at the ultimate lowest cost to users.
It is a comprehensive service provision that is the result of an intelligent integration of:
PiFi – a mobile wireless 3G Router that produces a Personal WiFi Hotzone with any SIM
card
PiFiSIM – a selection of specially designed mobile roaming data SIM cards and supporting
data services offering extremely low-priced internet roaming data services
PiFiDialer – a Mobile Dialer for use with iOS, Android, Windows PC, iPADs and tablets
PiFiVoice – is the pay-as-you-go call credit for IP telephony using PiFiDialer
PiFiDID – Direct Inward Dialling number which accepts forwarded calls to local numbers
It is a wholesome service that one can use to achieve the optimum savings in data and voice communications while travelling abroad, and to get the most use out of their existing data services by using PiFi with a local SIM card.
These no-contract services are ubiquitous (available anywhere on a 3G network), convenient, safe and affordable. All designed to enable one to be more connected.
During the IndieGoGo crowdfunding campaign, funders are asked to pledge various amounts - US$5, US$25, US$99, US$115, US$175, US$185, US$320, US$750, US$1575, US$10,000 – in exchange for valuable rewards for less than what the product with sell at retail. For pledge amounts greater than US$25, funders will receive a PiFi Device, PiFiSIM and discount privileges on PiFi Services that amount to greater value than the amount of the pledge.
Pledge of US$1575 and pledge of US$10,000 would give the funder authorized reseller status as well as a start-up inventory of PiFi and PiFiSIM and PiFi Services at a special large discount applicable to authorized resellers.
It is really a win-win proposition.
The crowdfunding campaign is an efficient way for small business with a great value proposition of products, solutions and services to achieve the following:
(a) to leverage the power of crowds to bring a product to market
(b) a great way to get publicity for the corporation's products and services
(c) an excellent way to build a distribution network
Carl Teo, president of Ecocarrier is excited to bring this proposition to market adding that "PiFiZone is a socially responsible service project. PiFi products and Services are a unique and intelligent implementation of leading edge technologies and telecom services offering through a single website. Ecocarrier delivers a very competitive service proposition through PiFiZone and is well-positioned and well-equipped to champion such a service provision and product supply."
Immediately following the IndieGoGo campaign, PiFiZone will retail it's products online and through it's newly acquired licensed distributors.
About EcoCarrier:
EcoCarrier is a Canadian private corporation, licensed by CRTC in Canada for the provision of international telecommunication services and is a leading provider of managed services for voice, text and data communication and wholesale carrier service in worldwide markets – currently with business operation in some 80 countries. It is an engineering as well as a marketing company. It designs, develops, supplies, provides and supports a network of resellers worldwide in catering to users, who are migrant workers, expatriates and travelers to use telephone services, mobile roaming data and voice services.