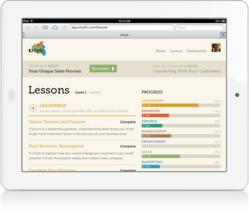 We're taking the mystery out of business coaching — and bringing forward the best of EMyth's timeless message in ways that speak more directly to today's business leaders.
Ashland, OR (PRWEB) October 02, 2012
EMyth, a recognized leader in business coaching, training and education, takes online learning to the next level with the launch of an intuitively designed, cloud-based learning platform targeted to the needs of entrepreneurs and business leaders on-the-go.
From desktop to tablet to smartphone, EMyth provides practical solutions for the real-world challenges that entrepreneurs and business leaders face as they develop and grow their business. The new business coaching platform is a social hub grounded in EMyth's fundamentals, taking a proven coaching process and opening up different levels of access for businesses at different stages. Clients will work through the EMyth courses — either at their own pace or with a dedicated coach — and be able to network with others working on their own business transformation.
The New EMyth Web Platform
The EMyth learning platform has two levels for users to choose from:

The Basic Level is a self-paced, digital business coaching program designed for entrepreneurs who are looking for business solutions at a lower cost.
The Premium Level takes all of the benefits of the platform and adds a relationship with an EMyth Coach, allowing for deeper transformation.
All clients gain access to a full library of business development tools, instructional videos, and challenging questions designed to help bridge the gaps in their systems and streamline their organization.
Clients deepen their learning experience by participating in an online community forum moderated by EMyth Coaches. It's a place where clients have the opportunity to engage key concepts and gain access to a network of like-minded business leaders.
"We're taking the mystery out of business coaching — and bringing forward the best of EMyth's timeless message in ways that speak more directly to today's business leaders," said Jonathan Raymond, CEO of EMyth. "The web platform is a destination — a place for people to come and work on their business at their own pace and connect with like-minded peers, with the option to experience working with an EMyth Coach."
Beginning in October, EMyth will start sending out Beta invitations to individuals ready to dive into the platform, providing an opportunity to give feedback and help EMyth co-create a seamless user experience. To participate, visit emyth.com/start; to tag, use #emythbeta.
"More than 35 years ago, EMyth invented business coaching for the entrepreneur," added Raymond. "Now we're doing it again, taking our proven business development process and making it even more accessible as a guided web application. It's everything you need to create the business you want."
About EMyth
Based in Ashland, Oregon, EMyth is a recognized leader in business coaching for small and mid-size businesses. EMyth helps business owners through ongoing one-on-one coaching relationships, in-person Leadership Intensives, affinity groups, and management trainings. EMyth continues to evolve to meet the changing needs of today's entrepreneurs, using its 35 years of experience of working with more than 70,000 businesses in 145 countries.
Visit the EMyth Blog to connect on topics ranging from financial intelligence and operational excellence to entrepreneurial leadership.
On Twitter, follow @emyth and Jonathan Raymond, CEO @emythceo.