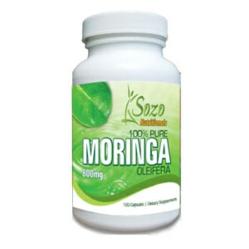 Moringa Oleifera is the Ultimate Superfood!
Dallas, TX (PRWEB) October 01, 2012
The Moringa tree has been known throughout the dietary supplement industry as the "Tree of Life" because of the extremely nutritious value found in the leaves. On a pound for pound basis, the Moringa plant extract compared to oranges has seven times the amount of vitamin C, four times the amount of calcium found in milk and twice the protein, four times the amount of vitamin A found in carrots, three times the amount of potassium found in bananas, and three times the amount of iron found in almonds. Moringa Oleifera supplements are truly an ultimate super food because of all the essential vitamins, minerals, and anti-oxidants found within them. All of the Moringa plant is edible but only the extract from the leaves have the highest amount of nutritious value. It is important to purchase high quality Moringa Oleifera supplements that contain only the powered leaves of the plant to maintain the quality and nutritional value of the supplement. Sozo Nutritionals provides 100% high quality Moringa Oleifera supplements that contain only the powered leaves with no fillers, additives, or flow agents. They are also handpicked, and packaged under close supervision to maintain freshness and potency.
Moringa Oleifera supplements sales have grown substantially due to a featured episode on a popular TV show, which featured the benefits of Moringa extract. Millions of people now use Moringa Oleifera supplements in their dietary plan and more hear about the positive effects everyday. Moringa extract is known as an "energy blaster" and is recommended by doctors for people to take the supplements twice in the morning, and twice in the evening. It is also recommended by nutritionists to drink Moringa tea daily if you don't prefer supplements. Scientists have discovered that the nutrients and high level of vitamins found in Moringa Oleifera have a vital role in a significant weight loss diet. The reason behind this is because when your body digests a high amount of vitamins it is more likely to use those nutrients as energy rather than store it as fat.
Moringa Oleifera has been used for over two thousand years and is utilized in various different ways across the globe. For centuries in Asia and Africa, Moringa Oleifera has been used as a natural healing supplement and as a nutritional source. In third world countries charitable organizations continue to use Moringa Oleifera as a main nutritional component in their programs. Moringa Oleifera is beginning to become widely popular in western cultures due to its' true whole food supplement properties.
Sozo Nutritionals is an online retailer of premium dietary supplements and natural health products made in the U.S. Sozo Nutritionals is devoted to assisting others in reaching their weight loss goals, improving their lives, and helping countless others Discover a Whole New You! Visit http://www.sozonutritionals.com and begin your journey into a healthier lifestyle.