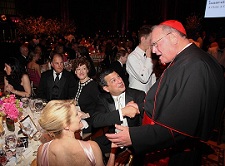 (PRWEB) October 01, 2012
Mitch Vazquez offers charity to the specialized medical care in underdeveloped countries. He is an active philanthropic donor making efforts to improve other less privileged one's world better. He has donated his time and effort to many regional charities and has helped changed the social conditions of the community.
This cause of specialized medical care in underdeveloped countries is a noble act of the Smile Train foundation. They help those children who are born with cleft anywhere in the world giving them the opportunity to live a full, productive life. They provide support and help them get their cleft corrected with reconstructive plastic surgery, providing excellent results.
Clefts are a major problem in developing countries where there are millions of children who are suffering with unprepared clefts. Mitch Vazquez took this opportunity to help every child with a cleft get a surgery that costs as little as $250 and takes as little as 45 minutes. He understands that people just need support and care in their time of need.
Mitchell Vazquez is grateful for the many positive influences on his life and believes that one single help means a lot to those underprivileged people. To know more about the other philanthropy he supports log on to http://www.mitchellvazquez.com.