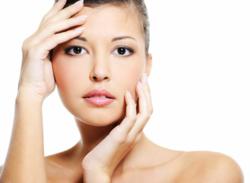 Natural Face Lift is completely non-invasive and non-surgical.
Marlton, NJ (PRWEB) October 03, 2012
Lipo Laser of South Jersey is pleased to announce they now provide Microcurrent Facial Sculpting. This Natural Face Lift is a non-surgical, non-invasive alternative to cosmetic surgery. It has been demonstrated that this treatment reduces fine lines, creases and wrinkles. There is also clinical evidence of visible firming and contouring, lifting overall drooping features.
During this treatment, microcurrent emits subtle electrical frequencies that mimic the body's own electrical signals. The microcurrent treatment increases the amount of ATP (Adenosine triphosphate is the chemical fuel of human cells) by as much as 500%. Increased levels of ATP re-educates facial muscles. Collagen and elastin are reconstituted. The result is smoother, more youthful skin and lifting overall drooping features. Because this procedure is non-invasive many of the risks associated with plastic surgery are non-existent. Treatment is conducted by a full time staff Esthetician.
Lipo Laser of South Jersey is offering a website only coupon to be printed and presented on a patient's first visit. The normal fee is $125 but the Try It Out for 1 Visit special price is $49.
Lipo Laser of South Jersey employs the Beautiful Image Microcurrent Model 900 non-surgical facial sculpting machine for the Natural Face Lift treatment. Beautiful Image of Ft. Lauderdale, FL was founded in 1976 and is a pioneer in microcurrent technology for use in facial and body aesthetics.
Lipo laser of South Jersey is located on 100 W. Old Marlton Pike in Marlton, NJ and is open Monday through Friday. In addition to facial sculpting they provide Lipo Laser fat loss and body contouring treatments utilizing both the Lapex and Zerona technologies. Lipo Laser of South Jersey services all of New Jersey including but not limited to: Cherry Hill, Moorestown, Haddonfield, Cinnaminson, Medford, North Jersey and all shore points. To make an appointment for the Natural Face Lift call 1.856.596.3000.