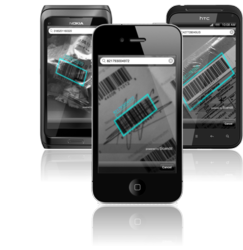 Scandit is accurate and amazingly fast. It provides a great user experience.
Furthermore, Scandit provides great support as a partner. -shopkick CTO Aaron Emigh
San Francisco, CA (PRWEB) October 01, 2012
Scandit (http://www.scandit.com), a leader in mobile barcode scanning, product data and analytics, announced today that the popular shopping app shopkick has integrated Scandit's leading-edge barcode scanner in both its iOS and Android apps.
Shopkick has integrated Scandit's barcode scanning technology to further increase user engagement with consumer products in retail stores. The new scanner can capture barcodes from any angle before the camera even focuses, and represents the latest in mobile image recognition technology. Scandit not only captures product codes faster and more reliably than competing solutions, it also supports the largest possible number of devices across iOS and Android, including a wide range of low-cost Android devices without autofocus cameras.
The recent update further demonstrates shopkick's commitment to make shopping fun and exciting for its users. Shopkick co-founder and CTO Aaron Emigh remarked that "Scandit is accurate and amazingly fast. It provides a great user experience. Furthermore, Scandit provides great support as a partner." The excitement about the collaboration is shared by Scandit CEO Samuel Mueller: "The release of a Scandit-powered app marks the beginning of a great, multi-year relationship between our two companies. Working side-by-side with the shopkick team for this release has been incredible. We're excited to help shopkick boost their user engagement and create more value for their retail partners."
The partnership announcement comes shortly after Scandit's release of its free community edition Barcode Scanner SDK and Product API. The Scandit community edition is available globally through the Scandit website at http://www.scandit.com/pricing/.