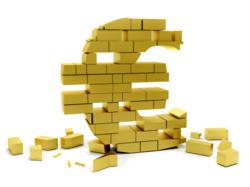 The first sign is that there is currently a large amount of money leaving the poorer, troubled nations and being moved up into the stronger members of the eurozone," notes Cekerevac.
New York, NY (PRWEB) October 01, 2012
In a recent Investment Contrarians article, editor Sasha Cekerevac reports that, while it may seem that the financial crisis is averted based on the recent announcement by the European Central Bank (ECB) regarding additional monetary support, cracks are starting to appear that suggest the financial crisis is postponed at best.
"The first sign is that there is currently a large amount of money leaving the poorer, troubled nations and being moved up into the stronger members of the eurozone," notes Cekerevac.
Citing data from Bloomberg, Cekerevac reports that approximately $425 billion (326 billion euros) left Spain, Greece, Ireland, and Portugal in the past fiscal year, ended July 31. He adds that Bloomberg also states that approximately 300 billion euros moved into the economies of the seven core members of the eurozone, including Germany.
"While the eurozone is supposed to be 'one' economic block, it's obviously becoming increasingly fragmented," Cekerevac points out.
Has anything really changed structurally? The Investment Contrarians editor says no. While he concedes that a lifeline has been handed out with new monetary stimulus, he also claims that there are significant hurdles for the eurozone to survive, especially with the massive flow of funds.
While Cekerevac believes that greater integration between the eurozone members is critical for this union to work, he reports that while the leaders may talk about such a course of action, the people seem to be of a different opinion.
"Just recently, the people and political parties of Catalonia, a part of Spain, are now examining how to legally secede from the country. They want control over their revenue, as that region is an overall net contributor to the country," Cekerevac explains. "With unemployment sky-high and the financial crisis close to erupting, this is obviously causing a lot of tension, and local politicians are now using this to their advantage."
He adds that Catalonia is not the only region looking to secede.
Cekerevac concludes, asking, "…if greater integration is key to keeping the eurozone together, how likely is this to happen when individual countries can't stay together?"
To see the full article and to get a real contrarian perspective on investing and the economy, visit Investment Contrarians at http://www.investmentcontrarians.com.
Investment Contrarians is a daily financial e-letter dedicated to helping investors make money by going against the "herd mentality."
The editors of Investment Contrarians believe the stock market and the economy have been propped up since 2009 by artificially low interest rates, never-ending government borrowing and an unprecedented expansion of our money supply. The "official" unemployment numbers do not reflect people who have given up looking for work and are thus skewed. They believe the "official" inflation numbers are also not reflective of today's reality of rising prices.
After a 25- to 30-year down cycle in interest rates, the Investment Contrarians editors expect rapid inflation caused by huge government debt and money printing will eventually start us on a new cycle of rising interest rates.
Investment Contrarians provides unbiased research. They are independent analysts who love to research and comment on the economy and investing. The e-newsletter's parent company, Lombardi Publishing Corporation, has been in business since 1986. Combined, their economists and analysts have over 100 years of investment experience.
Find out where Investment Contrarians editors see the risks and opportunities for investors in 2012 at http://www.investmentcontrarians.com.
George Leong, B. Comm., one of the lead editorial contributors at Investment Contrarians, has just released, "A Problem 23 Times Bigger Than Greece," a breakthrough video where George details the risk of an economy set to implode that is 23 times bigger than Greece's economy! To see the video, visit http://www.investmentcontrarians.com/press.