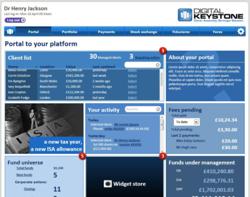 Hemel Hempstead (PRWEB UK) 1 October 2012
Digital Keystone Limited, a leading financial software specialist, today announced the launch of its next generation portal software designed to help Financial Institutions provide an optimised user experience to both customers and intermediaries.
The Portal is a framework developed to enable integration of underlying systems, legacy systems, and third party services to deliver content, data and functionality via a modern intuitive user interface. The Portal features a Widget-based architecture allowing Financial Institutions to optimise the customer experience. End-users are able to customise the Portal and choose the screen layout and the Widgets or Apps that best suit their needs.
Widgets can be used to provide windows onto legacy processing systems, financial accounts, management information, and document repositories, as well as third party content such as video, messaging, and specialist news feeds.
An important consideration when designing the Portal was that it works across all devices (such as regular browsers, iPad, Android, and iPhone). DK's founder Graeme Gets explains, "Many web applications developed do not properly cater for cross-device compatibility. Often, when encountering a smartphone for example, the page rendered to the phone is a cut down, summarised version. Our view is that no matter what device is being used no functionality should be lost."
The Portal Framework uses the adaptive features of HTML5 and CSS3 to deliver the same functionality optimised for the device used to access it. This negates to need to develop individual applications to support the ever increasing number of devices and mobile operating systems, and significantly reduces development cost, time to market and on-going maintenance.
For a demonstration of the software, screenshots or further information please get in touch with Justin Belcher at Digital Keystone on 01442 355225 or by e-mail at press(at)digitalkeystone.co(dot)uk