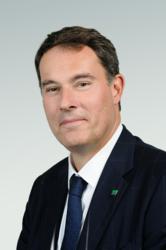 For several years, our growth rates have significantly exceeded those for the general IT services market. Clients appreciate and benefit from the added value services that SQS provides.
London (PRWEB UK) 1 October 2012
Effective immediately, Diederik Vos has taken over leadership of SQS Software Quality Systems AG, the world's leading specialist in software quality. As Chief Executive Officer (CEO) and Chairman of the Board, he replaces SQS co-founder and former CEO Rudolf van Megen, who is stepping down. Vos has been a member of the SQS board since March 2011, in the role of Chief Operating Officer (COO).
Diederik Vos has made a key contribution to driving the strategic development of SQS AG over the past year. In his role as COO, he identified the core drivers in markets relevant to SQS and aligned the company's product and service portfolio for further growth. Principally, Vos has focussed the business on six core industries of banking, retail/logistics, insurance, energy, manufacturing and telecommunications. He has been instrumental in growing SQS's managed (testing) services, in particular, and has focussed the company's business on major projects.
"At SQS, I am taking over as the head of the world's leading specialist in software testing and quality management", says Diederik Vos. "In Europe, we rank among the top four players in the market. For several years, our growth rates have significantly exceeded those for the general IT services market. This can attributed largely to Rudolf van Megen, the co-founder of SQS who has led the company for 30 years. Building on the foundations created by him, we now plan to further consolidate SQS's position in international markets."
SQS is set to continue to grow faster than the market for software testing and quality management overall, according to Vos. "We are looking to achieve that growth by focussing strongly on our core industries and expanding our managed services activities." Vos's goal over the next two years is to boost earnings from software testing in the form of managed services to 40 per cent of total revenue. In addition, the new CEO will be looking to build SQS's business in the US and expand its activities in the areas of software testing and certification of software products.
"This growth will be accompanied by a further increase in SQS's profitability ", explains Diederik Vos. "Clients appreciate and benefit from the added value services that SQS provides. Thanks to our clear differentiation in the marketplace and 30 years of experience as a specialist in software quality, we increasingly find ourselves operating as a business partner to our clients. In addition, we invest heavily in talent management, helping to boost performance, above all in offshore test centres, a sector which we will continue to build upon."
A native of the Netherlands and experienced international manager, Vos, 48, has extensive expertise in the areas of managed services, IT services and management consulting. Before joining SQS, he helped to drive change processes at a number of companies, increasing profitability and customer satisfaction. His previous career includes spells at AT&T, Lucent Technologies, Avaya and International Network Services.
SQS Software Quality Systems
SQS is the leading global specialist in software quality. This position is based on 30 years of successful consultancy work. Using standardised methodologies and extensive experience in all industries, SQS consultants offer solutions for all aspects of quality -throughout the software product lifecycle'. The company is based in Cologne and employs around 2,200 staff. In addition to maintaining a strong presence in Germany and the UK, SQS has subsidiaries in Egypt, Finland, France, India, Ireland, the Netherlands, Norway, Austria, Sweden, Switzerland, South Africa and the USA. SQS also has a minor stake in an operation in Portugal and a partnership operation in Spain. In 2011, SQS generated sales of €189.1 million.
SQS is the first German company to have a primary listing on the AIM (Alternative Investment Market) in London. Furthermore, SQS shares are listed on the open market of the German Stock Exchange in Frankfurt am Main.
With over 7,000 completed projects under its belt, SQS has a strong client base including more than half of the DAX 30 companies, one third of STOXX 50 companies and 20 per cent of FTSE 100 companies. These include Allianz, Beazley, BP, Centrica, Commerzbank, Daimler, Deutsche Post, Generali, JP Morgan, Meteor, Reuters and Volkswagen as well as other firms from every other conceivable sector.
For more information, see: http://www.sqs.com
Further information:
SQS Software Quality Systems
Simona Franciosi
7 – 11 Moorgate
London EC2R 6AF
Tel. +44 (0)20 7448 4620
Fax +44 (0) 207 448 4651
E-mail: simona.franciosi (at) sqs (dot) com
Internet: http://www.sqs.com
Press contact:
Vitis tech PR agency
Ranbir Sahota
32 – 35 Hall Street
Birmingham B18 6BS
Tel. +44 (0)121 242 8048
Fax +44 (0)121 285 0758
E-mail: Ranbir (at) vitispr (dot) com
Internet: http://www.vitispr.com