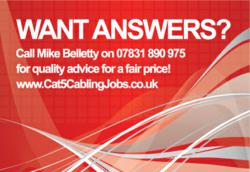 "When it comes to keeping all systems up and running, cabling problems may be more threatening to a stable IT environment than many companies may think," commented Mike Belletty at Low Cost Cabling
London, UK (PRWEB) October 04, 2012
"When it comes to keeping all systems up and running, cabling problems may be more threatening to a stable IT environment than many companies may think," commented Mike Belletty at Low Cost Cabling. According to IBM, 70% of all network downtime can be the result of cabling problems. "Companies should look again at their cabling environment," added Mike "because any downtime can create havoc for most companies." An Infomatics study found that downtime averages 140 hours a year on average. "If one considers the cost of lost productivity, downtime costs can be substantial," not to mention the impact on customers," continued Mike.
Low Cost Cabling just released a special report "Common Network Mistakes That Can Cost Thousands in Lost Productivity" The report provides a checklist to avoid hidden cabling problems that could bring one or more systems down. Many companies, including those in East London's Tech City area, are reviewing their cable infrastructure to prevent problems they may have been unaware of. In addition to the report, Low Cost Cabling provides a free trouble-shooting audit. The cabling audit provides a written cabling analysis isolating cabling problems that should be immediately addressed, according to the company.
About Low Cost Cabling
Mike Belletty, Structured Cabling Engineer - Director @ M&M Maintenance Ltd
Mike is a very hands on data cabling engineer with a strong structured cabling background. His methodical approach has helped major companies in the UK for over 20 years.