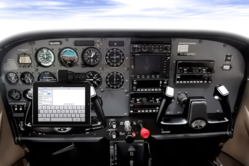 Pilots will no longer have to wait for paper updates to be passed on to them
Kent (PRWEB UK) 1 October 2012
The paperless flight manual for pilots was created by Colorado-based Boeing's Jeppesen unit. This summer the company rolled out Jeppesen Mobile FliteDeck, an iPad application with en route moving map functionality that will further assist operators in implementing a paperless environment in the cockpit. This is the first of its kind in the world and would operate on a real time database. The company has been working with many airlines and some have already implemented the system with their airline pilots.
Pilots on United and Continental Airlines have already switched to the paperless system. The switch from paper copies of the flight manual to the iPad app is predicted to bring airlines massive savings. The rollout is expected to cost $5m (£3m), while the scheme will save about $1m in costs annually.
Pilots will no longer have to wait for paper updates to be passed on to them; all this can now be done electronically, even downloading the manual of their choice for anywhere in the world. The use of iPad will also facilitate all other communication processes like dispatching regular reports, such as the Air Safety Report, Captain's Report and Security Report, at the end of the flight.
The paperless cockpit definitely seems like the way forward for a more efficient communication system for both airlines and pilots. Luggage Superstore is proud to be able to provide a selection of iPad protective sleeves to owners looking for availability of such.
Luggage Superstore established site is in West Kingsdown, Kent. Their aim is providing competitive prices of the highest quality luggage and top calibre customer service for online luggage shopping.
Trina Chee-a-kwai
Luggage Superstore
01474 854666
Email information