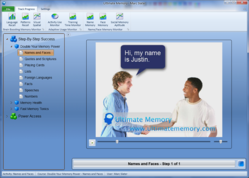 The herb was able to improve memory where memory loss occurred and prevent any additional loss.
New York City, NY (PRWEB) October 15, 2012
Brahmi, an herb found in Florida, Central American, and India, has recently been found to positively affect the memory of mice. A readily available herb, brahmi has been deemed to be more effective than any other medications for memory loss currently on the market. Research will soon be extended to humans with hopefully similar results. Brahmi is currently used to treat a variety of illnesses in adults from anxiety to allergic conditions to mental health issues.
"It is very exciting to hear that brahmi has been confirmed to help prevent memory loss in mice," states Marc Slater of Ultimate Memory. "Hopefully, these findings will also be found in studies in humans. New ways to improve memory are always positive."
In a five-year study led by Dr. Sudesh Prabhakar at the Postgraduate Institute of Medical Education & Research in Chandigarh, India, brahmi was shown to help mice recover their memory faster. The herb was able to improve memory where memory loss occurred and prevent any additional loss. It should be noted that brahmi was found not to be a memory enhancer. It only helped damaged memory cells and not normal ones.
Researchers hope that brahmi will support memory loss in humans and aid those with Alzheimer's, dementia, and other memory related illnesses. If proven to be effective in humans, brahmi as a memory aid will prove to be a great discovery and should be able to help both children and adults. Currently, brahmi shows no side effects, adding to its great appeal.
After approval from the ethics committee, testing on human subjects will begin. In the meantime, brahmi, as most other herbs, should only be used with caution by humans.
For more information on how Ultimate Memory software can help, please visit: http://www.ultimatememory.com
******
About Ultimate Memory™
Ultimate Memory™ is the market's leading memory improvement software package.
Scientifically proven to improve memory with as little as ten minute's user per day, Ultimate Memory™ is also backed by an iron-clad guarantee.
Containing many innovative strategies, tutorials, tips and exercises, users benefit from a myriad of varied ways to learn.