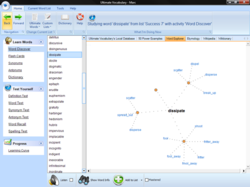 Charter schools will have to double, and in some cases triple, their enrollment of disadvantaged students.
New York City, NY (PRWEB) October 07, 2012
As reported in the Albany Times Union, under a new two year state law, charter schools in the Albany area will be forced to enroll more high need students than they have done in the past. This includes children who have a disability, who live in poverty, and/or who are English language learners. By increasing enrollment in charter schools, high need students will be given the best of all services that are being offered.
"We at Ultimate Vocabulary are very happy about Albany's new state laws," says Marc Slater, leading producer of vocabulary software. "This is something that we believe should have been done a long time ago, so we are pleased it is finally occurring."
In the past, charter schools have had a significantly lower enrollment of high need students compared to Albany public school districts. According to the new mandate by the New York State Education Department, this will no longer be acceptable. Charter schools will have to double, and in some cases triple, their enrollment of disadvantaged students. Charter schools will be required to take a certain percentage of high need students and maintain that percentage or will be faced with being shut down. Charter systems will no longer be able to use their prior system of admittance, randomly taking students.
"All students, regardless of background, should have the same opportunities," adds Mr. Slater. "If we have the resources available to provide more support and assistance, we should be using them. Public education and reading skills, with the increase in vocabulary improvement that brings about, is a good thing and that's what it's all about. No student should be denied these opportunities merely due to their learning speed and abilities."
For more information on the features of the Ultimate Vocabulary software, please visit: http://www.ultimatevocabulary.com/
About Ultimate Vocabulary™
Ultimate Vocabulary provides a proven and powerful platform, built to improve anyone's vocabulary.
The interactive self-improvement system provides more learning tools than any other program on the market, as well as more information on words.
The Ultimate Vocabulary software provides each and every user with a personal computer tutor. Providing a step-by-step guide to learning a powerful vocabulary, Ultimate Vocabulary is the learning tool everyone can benefit from.
Of course, the software is also backed by eReflect's iron-clad money back guarantee.