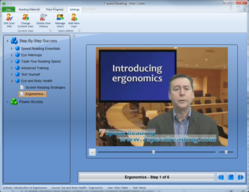 When it comes to reading comprehension, 'the slower the better' no longer applies.
New York City, NY (PRWEB) October 09, 2012
Despite its growing popularity since the mid-twentieth century, speed reading has often been looked down upon as an ineffective reading technique by those in the academic field. Today this is no longer the case: speed reading today received the endorsement of academia regarding its ability to improve reading comprehension.
Cambridge University has verified the link between reading speed and reading comprehension, corroborating the assertions made by 7 Speed Reading™ and its founder, Marc Slater, have made since the beginning. According to the University Students' Union, University of Cambridge, speed reading techniques enable individuals to access large amounts of information that would otherwise take hours of reading to acquire.
Comprehension can indeed substantially increase with a small adjustment to the reading pace, 7 Speed Reading™ asserts. The article confirms that while it is not usually possible to keep up the same reading pace throughout a text, the pace will fluctuate depending on the material's easiness. When it comes to reading comprehension, 'the slower the better' no longer applies. On the contrary, it's all about flexibility and adaptability; the capacity to slow down when the copy is obscure, and promptly speed up when the hard part is over.
In a thoroughly supportive fashion, the article recounts the advantages of speed reading. Word-by-word reading, subvocalization, and the misleading assumption that slower reading ensures greater comprehension are common culprits that inhibit the reading experience, the article sustains. As the article concludes, speed reading techniques can "rectify common reading mistakes that decelerate reading comprehension and information retainment," as Marc Slater commented today.
Regression, Marc Slater also stressed, "is the number one reason why reading consumes so much time." In his words, "Full brain utilization and fixation expansion are two powerful aspects of speed reading that potentially eliminate the need for rereading. 7 Speed Reading helps people overcome familiar habits that sabotage reading comprehension and retard information processing; these bad habits gradually become extinct thanks to speed reading. When people work towards developing useful and time-saving reading habits, reading will be a pleasant and productive learning experience.
To find out more about the software's advanced features, please visit: http://www.7speedreading.com
*******
About 7 Speed Reading™
7 Speed Reading is the only modern speed reading software that uses the latest technology to produce superior results.
The software provides its users with a new way to master speed reading that guarantees three times the reading speed along with improved memory and comprehension.
The software is poised as the most comprehensive speed reading system anywhere. It contains seven learning strategies, fifteen software activities, video training, advanced tracking capabilities and many more exciting features.