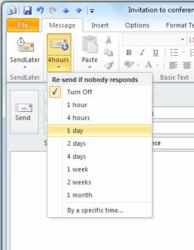 Huge time saving features - such as auto-resending if no replies are received and sending recurrent emails until a response is received.
Coral Springs, FL (PRWEB) October 02, 2012
SendLater (http://www.sendlateremail.com/) is a Microsoft Outlook add-in which allows its users to schedule emails and have them sent once or repeatedly, regardless of whether they are in front of their computers or not. The free email scheduler offers the possibility to set up and send scheduled emails at any time in the future. Now it comes with an additional feature - resending emails automatically if no replies are received.
This Outlook email scheduler can be used to send email reminders and avoid missing any deadlines or important dates. The user can type his own email or his colleagues' emails in the recipients field and specify the date and time when the reminder should be sent. There is also an option to send recurring messages, e.g. as monthly reminders to company's employees about report deadlines or about other events. When sending group emails, the list of recipients can be set to stay hidden. SendLater has a "Send personally" feature which makes the email look personal for each recipient. Now users can make sure that their emails get replies in time using the "Re-send" feature.
The new release of SendLater offers a new option for its users, to automatically resend an email if it was not replied to after a certain period of time. This can be done by clicking the "Re-send" button found in the new email window. After the time interval in which the user wishes to receive an answer is set, SendLater will take care of resending the email after the specified period of time has passed, in case there are no replies to it. Now users can also get status messages in the Inbox to easily keep track of automatically sent and resent emails.
SendLater with its most recent updates is now available at http://www.sendlateremail.com/.
4Team Corporation is a Microsoft Certified Partner. For more than 12 years the company has been developing productivity tools, having a team of experienced IT specialists. 4Team Corporation offers a great variety of tools to improve and optimize work with Microsoft Outlook.
For more information please visit the SendLater website or call us at +1-954-796-8161.
You can learn more about other 4Team Corporation solutions at http://www.4Team.biz .