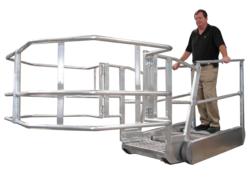 Sheffield Village, OH (PRWEB) October 02, 2012
Benko Products, Inc. introduces Elite Series Safety Stairs Gangways, delivering enhanced rigidity and longer-lasting tread for safe access from a loading rack or dock to an elevated walkway. The latest addition to the company's Green Access & Fall Protection line, Elite Safety Stairs Gangways provide a stronger engineered connection point that eliminates shakiness and increases the stability of an attached fall protection enclosure. Elite Safety Stairs Gangways further improve personnel safety in loading/unloading processes through larger handrails, combined with galvanized steel back box sections and back uprights on aluminum models.
With customizable options including dimensions, safety enclosure specifications and construction materials—including carbon steel, aluminum and fiberglass, or a combination of each—Elite Safety Stairs Gangways meet widely varying application needs in chemical, dry bulk, petroleum and many other industries. Their non-skid, self-leveling grip strut tread is extended to provide better footing and ideal access to isotainers. The stairs additionally offer a new telescopic midrail for simplified installation—all at a cost-effective price.
For ease of maneuverability, Elite Safety Stairs Gangways offer a simple and compact tension spring balance method. A slight push or pull by hand positions the stair for safe access to the vehicle. Plus, each unit is equipped with a locking mechanism for storage in the vertical position.
For more information on the Elite Series, as well as the company's Green Safety Stairs Gangways, visit http://www.green-mfg.com and download the new Green Access and Fall Protection Catalog.
The Green Access and Fall Protection line, manufactured by Benko Products, offers a complete selection of safety stairs, safety bridges (gangways), loading racks with and without canopies, G-RAFF elevating platforms, portable platforms, safety systems and horizontal lifeline systems. For more information, contact: Benko Products, Inc., 5350 Evergreen Pkwy, Sheffield Village, OH 44054. Phone: 440-934-2180. Fax: 440-934-4052. Web: http://www.green-mfg.com. Email: dingram(at)green-mfg(dot)com.