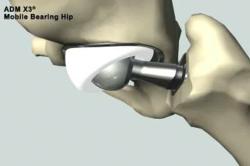 (PRWEB) October 26, 2012
Herald Online reported that, on July 6th, 2012, Stryker issued a voluntary recall of its Rejuvenate Modular Hip System and ABG II Modular-Neck stems due to mounting evidence that its design has led to major complications in hundreds of patients. According to the recall, these implants have an increased risk of "fretting and corrosion at the modular-neck junction. The development is the latest in a string of recalls related to hip replacement devices that utilize metal-on-metal components, which have been linked to instances of metallosis, muscle damage and complete hip implant failure. Lawyers believe that the jury awards for any future cases against Stryker will likely be more than what the company would be willing to compensate.
Attribution: http://www.heraldonline.com/2012/09/25/4290596/hip-implant-recall-stryker-orthopaedics.html
Stryker Corporation was a leading medical technology company offering reconstructive, medical and surgical products founded in 1941 by Dr. Homer Stryker, an orthopedic surgeon from Michigan. The complaints started between 2005 to 2007 about their Trident hip replacement parts. The patients were suffering pain and instability and reported strange squeaking sounds coming from their implants. In March 2007, the U.S. Food and Drug Administration issued a warning to the company's manufacturing facilities in Ireland about the quality issues. And 8 months later, the FDA issued a second warning, this time, about the problems in their New Jersey facility. While patients complained about the squeaking and popping noises during normal activities like walking, Stryker recalled the Trident Acetabular Cup System and the Trident Hemispherical Cup System in January of 2008.
More recently, in July of 2012, Stryker announced recall of its Rejunvenate and ABGII modular-neck stems, which attach to artificial hips, warning the patients that the components could cause fretting and corrosion, potentially leading to adverse local tissue reactions. Early reports of the problems indicated tissue damage and death, bone loss, and traces of metallic debris found in the hip joint, as potential results caused by the defect, with some patients reporting elevated levels of chromium in the blood. Other effects of the defective product may also include tumor-like growths, fluid collection near the implants, muscle loss and bony necrosis, and implant failure in as little as 8 months after the surgery.
Stryker Rejuvenate hip implants, Stryker's new product, is different from other hip replacement devices in that it is not a metal on metal hip replacement device. Instead, the Rejuvenate hip replacement device uses a ceramic component as an alternative to the metal-on-metal devices. It was marketed to patients as a modular hip replacement, specifying that the components were custom made to fit the patients better. These types of hip replacements were supposed to be long-lasting and offer better ranges of motion.
Although Rejuvenate does not have a metal-on-metal ball and socket design, the device has a metal neck piece that can rub against a metal stem, loosening some metallic debris. Thus, Some patients have developed metallosis after having the hip implant with Stryker Rejuvenate. Metallosis is an adverse tissue reaction to a heavy amount of metals in the body. It may cause pain, limited mobility, failure of the hip, pseudo-tumors, dissolution of the bone, DNA changes and chromosomal aberrations. Although normal hip implants are expected to last 15 to 20 years, Stryker Rejuvenate hips fail in less than five years. When patients expressed concern, Stryker has responded by alleging that patients did not properly undergo rehabilitation after the surgery or that the doctor did not implant the hip(s) correctly.
Attorney Paul d'Oliveira stated, "The Stryker hip failures are just another example of big companies putting profits ahead of people. These new medical devices should be more thoroughly tested before they are sold and placed into thousands of people. It is the same old same old again. You would think that these companies would learn, but it takes time and money to do more adequate testing and it is just too tempting for these companies to just go for the money and hope their product ends up being safe." Our civil justice system is the pillar of justice in our country and hopefully these Stryker hip lawsuits will get the injured people the compensation they deserve and other companies will learn that it is bad business to not adequately test the safety of their new products."
The attorneys at d'Oliveira & Associates urge anyone who has undergone hip implant using Stryker Rejuvenate and have suffered any injuries caused by the hip implants to call them. They are working with some of the leading defective product attorneys in the nation who are handling these cases. They want all patients of Stryker Rejuvenate and other hip replacement products to understand that they are entitled to compensation.
For a free legal consultation, call 1-800-992-6878 or visit their website at Stryker Hip Lawyer