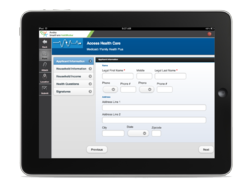 The SmartForm FieldWorker App replaces clipboards and paper with tablets and SmartForms.
Sydney, Australia and Denver, CO (PRWEB) October 02, 2012
Avoka Technologies, a leader in helping large organizations transform their paper-based business processes into intelligent data collection applications that make data collection quick, error free, and device independent today announced the availability of its new SmartForm FieldWorker App on the Google Play store.
The SmartForm FieldWorker App gives organizations a fast and easy way to replace clipboards and paper forms with Apple iPads, and Google Android or Windows tablets. By transitioning field data collection operations, such as asset tracking, field sales, field service, fleet management, onsite inspections and audits to the digital realm, it significantly improves field staff productivity and effectiveness, enhances data quality, and lowers operating costs.
"Our strategy is to make our Smartform Factory Enterprise Data Collection Platform (EDCP) available to any device so that organizations can use the tablet of their choice to significantly improve their field data collection capabilities," said Philip Copeland, CEO of Avoka Technologies. "This latest release makes it incredibly easy for Android Tablet users to quickly and easily install our SmartForm Field Worker App."
The Mobile Field Worker solution is based on the Avoka SmartForm FieldWorker App and the Avoka SmartForm Factory platform.
− SmartForm Factory is a platform that allows users with no programming or design skills to quickly build powerful HTML, HTML5, or PDF-based data-collection applications that work in regular browsers and on mobile devices. With SmartForm Factory, simple paper-based forms evolve into electronic forms that behave more like sophisticated data-collection applications. These SmartForms have the intelligent and interactive features that are required to make mobile data capture quick, easy, and error free.
− The SmartForm FieldWorker App extends today's powerful tablet devices with mobile data capture applications that are built using the SmartForm Factory. It significantly improves field worker productivity by ensuring that these applications are available anytime and anywhere - with or without a network connection.
"One of the really important aspects of this solution is how it helps organizations become more agile," said Howard Treisman, CTO of Avoka Technologies. "For instance the SmartForm FieldWorker App allows organizations to deploy new or modified SmartForms to the field worker without having to publish anything new to the app stores."
Experience Reflected in the Design
Over the past decade, the Avoka team has built and deployed hundreds of enterprise-grade SmartForm applications for major corporations and government agencies. All of the knowledge, experience and best practices the Avoka team gained in those engagements are built into the Mobile Field Worker solution. The result is best-in-class functionality in versatile and easy-to-use packages.
About Avoka Technologies
Avoka Technologies is a leading provider of solutions that enable organizations to transform any paper-based business processes into powerful data collection applications that make data collection fast, simple, and easy. Our award-winning solutions let organizations quickly create and deliver the cross-device, intelligent, and interactive online experiences that their users want and expect while also providing the scalability, security and controls that their IT departments need. Founded in 2002, Avoka is headquartered in Sydney and maintains offices throughout Australia and North America, and in Europe.