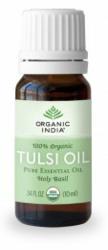 Boulder, CO (PRWEB) October 05, 2012
ORGANIC INDIA, manufacturers of herbal wellness teas and dietary supplements available at organicindiausa.com, launches its new Tulsi-Holy Basil 100% Pure Certified-Organic Therapeutic Essential Oil. This essential oil of Tulsi offers aromatherapeutic benefits that can boost body, mind, and spirit during times of stress.1
A popular plant in India that has been used for its healing properties for more than 5,000 years, Tulsi's traditional therapeutic uses, including its anti-stress activity and ability to support the immune system, have more recently been confirmed by numerous studies. A powerful adaptogen, Tulsi offers anti-stress support by neutralizing free radicals that damage the body.2 Tulsi also boosts immune response and supports an environment unsuitable for infections.3
ORGANIC INDIA's Tulsi-Holy Basil Therapeutic Essential Oil has an earthy scent that hints of clove, licorice, mint, and lemon. This Tulsi oil invokes mental clarity, peace of mind, and a calm state. Here are ways consumers can benefit from its aromatherapeutic properties:
To support lung health, a consumer can add a few drops of undiluted Tulsi-Holy Basil Essential Oil to a pot of hot water and carefully breathe in the steam with eyes closed. Or she can apply a few drops of Tulsi-Holy Basil Essential Oil that's diluted with massage oil to her palms, briskly rub them together, and hold her palms to her face while inhaling.
To boost immunity or support stress reduction, she can add a few drops of Tulsi-Holy Basil Essential Oil to an aromatherapy diffuser to provide uplifting and air-purifying benefits.
ORGANIC INDIA's Tulsi-Holy Basil Essential Oil is made from a blend of our own organically grown Krishna and Rama Tulsi (Ocimum sanctum) varieties. ORGANIC INDIA uses steam distillation to produce the oil, so it contains no harmful chemicals or solvents. ORGANIC INDIA's Tulsi-Holy Basil Essential Oil is available online at organicindiausa.com. Each certified-organic .34 fluid-ounce (10ml) bottle retails for $11.99.
About ORGANIC INDIA
ORGANIC INDIA works with thousands of family farmers in India, cultivating tens of thousands of acres of certified-organic farmland. The farmers are commissioned to grow organic crops, which ORGANIC INDIA purchases at a premium market price. ORGANIC INDIA supports their farmer partners by providing training, healthcare, and education that enables them to be self-sufficient and develop organic farming skills to pass on to future generations.
ORGANIC INDIA markets certified-organic, biodynamic, and ethically wild-crafted products throughout the United States, India, Israel, the United Kingdom, the Czech Republic, Japan, and Australia. By choosing ORGANIC INDIA, you support the wellness of people in need, the planet, and your family. To purchase products or for more information, please visit organicindiausa.com.
To learn more about ORGANIC INDIA or Tulsi-Holy Basil Essential Oil, please contact the company below:
Contact Information
Matt McLaughlin
Organic India USA
matt (at) organicindiausa (dot) com
720.406.3940
organicindiausa.com
1 Sembulingam K, Sembulingam P, Namasivayam A. Effect of Ocimum sanctum Linn on noise induced changes in plasma corticosterone level. Indian Journal of Physiology & Pharmacology 1997; 41: 139-143.
2 Geetha RK, Vasudevan DM. Inhibition of lipid peroxidation by botanical extracts of Ocimum sanctum: in vivo and in vitro studies. Life Sci. 2004 Nov 19;76(1):21-8.
3 Godhwani, S., Godhwani, J.L., Vyas, D.S., 1988. Ocimum sanctum: a preliminary study in evaluating its immunoregulatory profile in albino rats. Journal of Ethnopharmacology 24, 193–198.