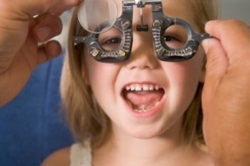 Fargo, N.D. (PRWEB) October 01, 2012
With the school year starting up, parents need to make sure that their children are physically ready for it. Receiving a physical exam is an obvious choice, but vision and dental health also need to be evaluated. However, these exams typically cost money. So even before making appointments to get children's health checked, parents might want to make sure that these services are covered by their insurance plans first.
Making sure that children can see properly is critical to their ability to learn. From reading books at their desks to comprehending what teachers write on the whiteboard, students need to be able to see in order to keep up on their studies. Does that parents' employer cover vision insurance in their employee benefits package? Vision insurance is currently ranked as the third most requested benefit, following health and dental by employees across the country. Periodic eye examinations are an important part of preventative healthcare. Many eye and vision conditions have no symptoms and students may not be aware of potential problems. Early diagnosis and treatment are important for maintaining good vision and preventing permanent vision loss.
The second most requested benefit by employees is dental insurance. There's no question why. While students can most likely go into a classroom and still learn a great deal while having a dental problem, any pain and discomfort caused by these issues could prevent their levels of attentiveness and overall health in the long run. There are four different levels of treatment that can be insured, and parents should have a comprehensive grasp on what benefits they can take advantage of. Preventative dental insurance usually provides for an exam two to four times per year, x-rays, cleanings, fluoride treatments, sealants and spacers (although certain limitations apply). Make sure you schedule a dental appointment for your student early in the year, so they don't have to miss out on any important tests or projects as the months go by. Basic dental insurance usually includes fillings extractions, oral surgery, root canals, periodontics and repairs to crowns. Major dental insurance packages typically cover crown, inlays, porcelain restoration, endodontic, full and partial dentures, certain adjustments, bridges, repairs, implants and non-surgical TMJ treatments. And the last treatment level could be especially important for any student: orthodontics. The coverage provided by orthodontic dental insurance typically provides services for dependents up to 19 years old.
This Fall, help students start school prepared, both mentally and physically. Review children's dental and vision insurance plans to see what is already covered, and to pick out what additional services need to be covered to get students the healthcare they need.