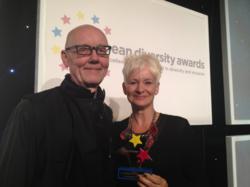 Do Something Different makes scalable online behaviour change a cost-effective reality.
B (PRWEB UK) 1 October 2012
Do Something Different picked up the trophy in the 'Google – Outstanding Use of Technology in the Field of Diversity' category at the European Diversity Awards, 2012.
The programme was Highly Commended for its innovative use of technology in delivering diversity programmes at scale using text and email to drive behaviour change.
The brain-child of two Professors of Psychology from the University of Hertfordshire, Karen Pine and Ben (C) Fletcher, Do Something Different uses online diagnostics to measure participants (or Do-ers) current habits and behaviours. Do-ers are then sent a series of psychologically powerful 'Do's' – text messages – designed to tempt people out of their comfort zones and experiment with new behaviours. At the end of the programme, online diagnostics measure how people have changed.
This award was based on the successful application of Do Something Different with a major UK professional services company, where diversity and inclusion Do's were delivered to over 10,000 employees, with outstanding results. Do Something Different has also been used for well-being programmes with marginalised communities in West Norfolk, with health programmes in Holland and creativity programmes with online advertising agencies.
Karen Pine explains: "The Do's are designed around the objective of the programme. At the same time, people with different habit profiles or behaviour profiles get different Do's. Someone who is shy will get Do's that will invite them to be a little more outgoing. Someone who is a risk-taker will get Do's that encourage them to be more cautious."
Do Something Different is currently being used by local authorities, larger corporates and smaller businesses covering topics from bias and diversity, health and well-being and work stress, to family and better parenting, anxiety and stress and healthy living programmes at home.