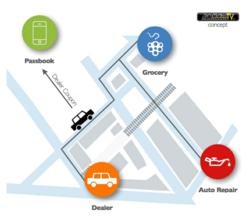 For dealers, convenience and timing of the message is everything
Minneapolis, MN (PRWEB) October 03, 2012
Ben Anderson, President of AutoMotion Dealer App details Apple's new Passbook concept in a featured article on DealerRefresh. Anderson explains the Passbook concept and how it seeks to eliminate a physical wallet. "Passbook keeps all of your airline tickets, concert tickets, coupons, and giftcards in one convenient app. Its location based, which means when you arrive at the airport, your iPhone will automatically access your ticket and display it for you." Anderson stats, "A quick scan at the gate of your iPhone screen and you're on board."
Anderson continues in the article to apply the new feature to the dealership market. "In my opinion, Passbook's effectiveness will really shine with retailers who rely on timing to engage their customer. While customers may go to great lengths of inconvenience to get that morning latte, we don't typically have that luxury. For dealers, convenience and timing of the message is everything."
Anderson sums up the article by comparing a mobile app's convenience to the appeal Passbook contains. "An app isn't a better way to access inventory, its more convenient and quicker. The same, I believe, holds true for Apple's Passbook," Anderson continued, "With Passbook and your dealer mobile app, we have potential to geo-target customers near the dealership – placing a mobile coupon in their Passbook at just the right time."
The original article can be found at DealerRefresh.com