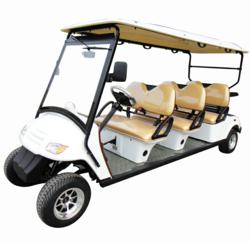 Destin, FL (PRWEB) October 01, 2012
Destin Wheels was founded in 2012 as a division of emergency retailer Disaster Relief Supply. The tourist-driven Destin Wheels was founded as a rental and sales agency of high-end street-legal golf carts, beach wheelchairs, and beach bicycles. With a zero-tolerance philosophy towards unsatisfactory service, Destin Wheels agreed to partner with Tripshock given their sterling reputation towards customer care. Tripshock, managed by Greg Fisher, is an attraction booking service that operates along the gulf coast, and has been growing rapidly since 2009. Since placing a listing on the Tripshock.com website, Destin Wheels has seen a large increase in both exposure and sales.
The Destin Wheels staff cites Greg Fisher and the staff at Tripshock as an invaluable resource in helping their business thrive by both increasing the popularity of the "Destin Wheels" name, and offering expert advice. After all, Tripshock has been a force in the Northwest Florida area for almost 4 years, with employees having worked in the local tourism and hospitality industry for decades. Tripshock.com offers over 150 tours and activities in multiple locations along the gulf coast, and has recently added lodging to the catalog of rentals, cementing themselves as a powerful ally in the competitive tourism-based economy of Northwest Florida.
With the heart of tourist season over, Destin Wheels is restructuring with lowered rates, and free local delivery options. View products offered, and learn more about the company at http://www.DestinWheels.com. To find out more about Tripshock, visit their website at http://www.Tripshock.com.