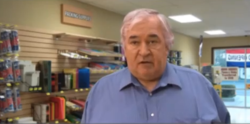 I got laid off my job in May… my wife was in the process of dying of cancer, so I stayed home with my wife from May to August and took care of her...
Buckley, WA (PRWEB) October 02, 2012
Diane's Mail Room is located at 135 Jefferson Avenue in a small strip mall in Buckley, WA. Ted Griffiths talks about why he opened his mailbox store and providing a vital service to the local community.
"I got laid off my job in May… my wife was in the process of dying of cancer, so I stayed home with my wife from May to August and took care of her. When she passed on I realized I didn't want to go back to work working for someone else, I wanted to start my own business. I got onto Franchise.com and I looked at numerous different franchise opportunities and some of them I thought 'well this is rather silly' they're going to make someone pay a big fee to start a carpet cleaning business? You can go down to Home Depot and buy the equipment and start your own carpet cleaning business without paying anyone a fee. I looked into a Hobby Store, a number of different things, then I found this company. No franchise fee. The only fee is what it costs to set up the business and that sort of thing. I don't have to wear anybody's corporate suit. I can do whatever I want with my store. So I started looking into this."
Buckley is a rural town just outside of Tacoma. In a small strip mall located at 135 Jefferson Ave. residents will now find Diane's Mail Room inside the cheery brick building, signs advertising UPS, FedEx, USPS, and notary services are in the windows. Other services offered there include, key cutting, 3D printing, internet access, custom boxes and crating, gift wrap, packaging supplies, and more.
Diane's Mail Room offers the surrounding area a vital service amidst rumored USPS shutdowns. The nearest mail box store is over six miles away.
According to Ted he wasn't sure which type of business he wanted to open at first, just that he wanted one. He began researching different opportunities, mostly online, and came across one place that he liked, "I hadn't even talked to anyone here yet (Discount Retail Store Services). I called the Better Business Bureau and asked them what they knew about Discount Retail Store Services, they told me what they knew. They were also able to give me information on other places that had started business through you folks, so I called a few of those—a couple in Texas, one in Illinois—and I talked to those owners, and I got all the information from them. Then I went online and looked to see if I could find anything online, you know, looking for bad comments. Well by the time I finished my research I basically called in here and said 'where do I send the money and let's get started.'"
A mailbox store seemed the logical choice because the nearest similar business was over six miles away and there had been rumors of USPS closings for quite some time in the area according to site location specialists. A good site was located and the lease agreement was negotiated by Mailbox Store Inc, the mailbox branch of Discount Retail Store Services.
You can see more of the Ted Griffiths interview here.
According to the owner his mailbox store is doing well. He wants the local community to know they now have a much closer option for mail services.
Discount Retail Store Services helps individuals start a business by taking care of the core areas of site location, lease negotiation, financing, build-out, business training, new store oversight, and ongoing wholesale support and marketing support in order to help entrepreneurs succeed. Including their six business models, clothing stores, dollar stores, teen stores, mailbox stores, fitness centers, and party stores, they have opened nearly 3,000 businesses. You can visit DRSS on Facebook as well.