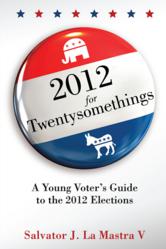 La Mastra provides unbiased, nonpartisan information on the issues facing our nation
DALLAS, TEXAS (PRWEB) October 02, 2012
The 2012 presidential election is 34 days away. Are young voters prepared to make an educated vote? Here's what they need to know before casting their ballot.
Salvator J. La Mastra V, author of "2012 for Twentysomethings: A Young Voter's Guide to the 2012 Elections" (Brown Books Publishing Group) speaks directly to the young voters of his generation, providing unbiased, nonpartisan information about the hot political issues at stake and each party's stance on them.
"Whether a leaning Democrat, or a staunch Republican, young voters will comprise the majority of votes for the first time ever in a presidential election," says La Mastra. "It's important for them to understand their vote will significantly impact the future of our great country."
Picking a leader at the ballot box can be a difficult choice. It's hard to sort out fact from fiction and doublespeak from sincere promises, especially with the bias in today's media. Information can get confusing—especially for young voters.
There are eight significant reasons why the youth vote is so important and vital to the future of America: the economy, unemployment, health care reform, entitlements, illegal immigration, taxes, congress, and social issues.
"This guide is precisely the resource young voters need to read," says Trenton Garza, president of the Baylor Democrats. "La Mastra's explanations of the issues will resonate with the young audience, effectively combating the disinterest in current events that results in voter apathy."
Adds Lance Kennedy, former state chairman of the Texas College of Republicans, "As a twentysomething, I know the importance of being politically informed. Sadly, most people my age are ignorant of the issues of our day."
"2012 for Twentysomethings" provides the necessary information to help young voters make sound, informed decisions. The time is now to get the important information needed to make an educated vote.
Books are available at bookstores everywhere, including Barnes & Noble, university campus bookstores, Amazon.com, and on the book's website.
To learn more visit: http://www.2012ForTwentysomethings.com.
About Salvator J. La Mastra:
Salvator J. La Mastra V graduated in 2010 from Baylor University with a degree in biology, a minor in chemistry, and a concentration in Latin. A current first-year dental student, La Mastra's interest in politics escalated during the 2010 midterm elections. He developed a passion for seeking out nonpartisan, unbiased information to help inform his peers after realizing that no relevant source of this type of information existed for young voters. This discovery eventually led to his writing "2012 for Twentysomethings"—he hopes his book will help educate his peers about the issues facing the United States for the 2012 presidential and congressional elections and increase the number of thoughtful, educated, and influential young voters.
About Brown Books Publishing Group:
"2012 for Twentysomethings: A Young Voter's Guide to the 2012 Elections" was published by Brown Books Publishing Group, a Texas-based, full-service, independent publisher. For more information about the publisher, please go to http://www.BrownBooks.com.
# # #