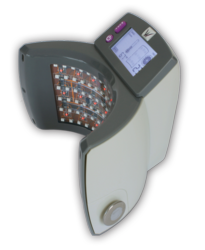 The WilloMD digitally sparks organic pain relief without the downside of "treatment plateau" or side effects.
Ann Arbor, Michigan (PRWEB) October 03, 2012
Physician's Technology today announced that the WilloMD Digital Joint Pain Management Solution received the Arthritis Foundation's Ease-of-Use Commendation. The Commendation recognizes the WilloMD for being easy to use, having passed independent testing by experts in universal design and hands-on testing by people with arthritis (AF-WilloMD).
"Products that feature the Arthritis Foundation's Ease-of-Use Commendation can dramatically improve the lives of people who struggle with everyday tasks because of arthritis. In fact, products recognized as Ease-of-Use make tasks easier for anyone," said Rick Bell, managing director of Cause Development with the Arthritis Foundation.
The WilloMD is the digital joint pain management solution specially designed to prevent "treatment plateau." "We are pleased with this Commendation from the Arthritis Foundation and appreciate their important work and will continue our commitment in helping millions improve their quality of life with convenient, safe and effective digital WilloMD technology for arthritis and other daily joint and orthopedic pain challenges," commented David B. Sutton, CEO of Physician's Technology.
About Physician's Technology and the WilloMD Joint Pain Management Solution
Physician's Technology is engaged in researching, designing, and manufacturing smart digital joint pain management solutions with therapeutic matching technology designed for persons with arthritis, injury and other joint diseases. The WilloMD digital delivery solution reduces joint toxicity, pain and potential joint damage while stimulating accelerated organic recovery. The WilloMD technology learns the patient's joint condition and automatically matches the optimal digital therapy that will boost the user's therapeutic benefit. This includes a patented digital biosensor that collects and processes data from the joint to produce and deliver customized digital therapy right to the effected joint without the downside of "treatment plateau". The company and medical team has advanced research and development of safe and effective therapeutic joint and orthopedic pain solutions for over 20 years. For more information please visit http://www.willomd.com.
About Ease-of-Use
The Arthritis Foundation's Ease-of-Use Commendation recognizes products proven to make life easier for people who have arthritis and other physical limitations. Independently tested by experts and evaluated by people with arthritis, Ease-of-Use products are easy to use by everyone. To learn more about the program and products that carry the Ease-of-Use Commendation, visit arthritis.org/easeofuse.
About the Arthritis Foundation
Striking one in every five adults and 300,000 children, arthritis is the nation's leading cause of disability. The Arthritis Foundation (http://www.arthritis.org) is committed to raising awareness and reducing the unacceptable impact of this serious and painful disease, which can severely damage joints and rob people of living life to its fullest. The Foundation funds life-changing research that has restored mobility in patients for more than six decades; fights for health care policies that improve the lives of the millions who live with arthritis; and partners with families to provide empowering programs and information.