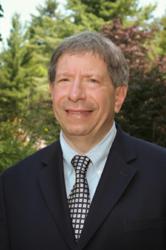 "I am extremely excited to have the opportunity to enhance the operation of the Trudeau Institute, which has a long history of world-class excellence as a premier center for immunology research..."
Saranac Lake, New York (PRWEB) October 01, 2012
Benjamin Brewster, Chairman of the Board of Trustees of the Trudeau Institute, announced today the appointment of Dr. Ronald H. Goldfarb as the biomedical research organization's sixth President, Director and CEO, effective October 1, 2012.
Mr. Brewster stated: "After a very thorough search, the Board of Trustees is delighted to announce Dr. Goldfarb's appointment. In addition to being an accomplished biomedical researcher, Ron has extensive experience in both the public and private sectors, where he has brought new technology to market and raised substantial funds for continued research and development. The board was unanimous in choosing Ron because we believe his talents and experience match the Institute's long, distinguished history. In addition to working closely with our faculty members to continue building Trudeau's reputation in immunology, Ron will focus on revenue diversification strategies to ensure Trudeau's successful transition into a new era."
Dr. Goldfarb, who has more than 30 years of experience in cancer research and development in both academic and industrial settings, most recently served as President, CEO and Chief Scientific Officer of Sopherion Therapeutics, a privately-held biopharmaceutical company headquartered in Princeton, New Jersey, which he co-founded in 2002.
Prior to launching Sopherion, Dr. Goldfarb held a number of senior management positions heading large and complex programs in cancer research and drug development, including: Director of the Institute for Cancer Research at the University of North Texas Health Science Center; Deputy Director of the University of Pittsburgh Cancer Institute; and managing Cancer Research and Drug Discovery in the Department of Immunology & Infectious Disease for Pfizer Inc.
Dr. Goldfarb has chaired multiple federal and state oncology peer-review panels/study sections for the National Cancer Institute, the American Cancer Society, the Veterans Affairs Administration, the U.S. Department of Defense, and the University of California. He has also served as a member of the Veterans Affairs Merit Review Council, as well as on the scientific advisory boards of five biotechnology companies, including three of which he served as chairman.
Dr. Goldfarb also has held faculty appointments at the University of North Texas Health Science Center as Professor and Chairman of the Department of Molecular Biology & Immunology and the University of Pittsburgh School of Medicine as Professor of Pathology. He has published more than 135 papers; edited or co-edited five books or special-edition journal volumes in cancer, tumor immunology and cancer therapy; and has served as associate editor for two cancer journals and as a member of the editorial boards for three cancer journals. He is the holder of U.S. and international patents in anti-cancer drug discovery and was awarded for Outstanding Service to the Cause of Cancer Control from the American Cancer Society in 2002.
Dr. Goldfarb earned a B.A. in biological sciences in 1970 from Herbert H. Lehman College of the City University of New York (formerly Hunter College in the Bronx) and a Ph.D. in microbiology and immunology from SUNY Downstate Medical Center.
Dr. Goldfarb expressed his excitement about assuming the role of the Institute's CEO: "I am extremely excited to have the opportunity to enhance the operation of the Trudeau Institute, which has a long history of world-class excellence as a premier center for immunology research. I look forward to working with the exceptional faculty and staff of Trudeau, as well as its outstanding and committed Board of Trustees to continue to ensure that Trudeau remains a center of excellence for basic and translational immunological studies. The importance of immunological research has never been higher than today for its potential to enhance world health and security; we will continue to emphasize investigations of the immune response for its high potential impact on discoveries of importance towards control of infectious disease, malignancies, aging, and bioterrorism."
About the Trudeau Institute
The Trudeau Institute is a nonprofit biomedical research center founded in 1884 by Dr. E.L. Trudeau. The Institute's fundamental research on immunity fosters the development of vaccines, treatments and cures for many life-threatening diseases, including cancer, tuberculosis and influenza. The Institute is supported by federal and state grants and contributions from individuals, private foundations and corporations. For further information about the Trudeau Institute, go to http://www.trudeauinstitute.org.
###