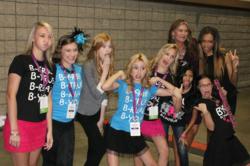 Los Angeles, CA (PRWEB) October 01, 2012
Hundreds gathered this weekend at the California Women's Conference to celebrate tween and teen attendance at this year's conference last Sunday. The Long Beach Convention Center Exhibit Hall included 250 vendors, including BYOU-Be Your Own You who made history as they welcomed teen celebrities, young role models, and all attendees who took part in the California Women's Conference's Tween and Teen Summit celebration.
For the first time ever, the California Women's Conference invited young girls to attend the conference and enjoy a night of exciting performances, speakers, and panel discussions surrounding the issues surrounding the modern teen girl, inducing bullying, self-esteem, body image and much more. The Tween and Teen Summit showcased two separate panels, one of which brought everyday girls onto the stage to speak about their experiences growing up with today's pressures.
Throughout the evening BYOU offered girls an opportunity to learn, win prizes, purchase BYOU apparel & accessories, take pictures and meet the starlets making a difference in girls' self-esteem. Celebrities included: Jessica Jarrell, Allisyn Arm, Audrey Whitby, Ani Hesse, Cassandra Perkins, Katherine McNamara, Tara Nicole Azarian and Cymphonique Miller.
"It was truly inspirational for everyone to have so many positive role models in one place offering such heartfelt and empowering advice to girls. The energy and excitement was amazing! My huge thanks goes out to all of them for caring enough to make a difference in the lives of so many girls," said Debra Gano, CEO and Publisher of BYOU "Be Your Own You" Magazine.
All girls who attended the conference on Sunday evening had an opportunity to meet and greet each of the teen celebrities and enjoy a pink carpet moment at the California Women's Conference 2012.