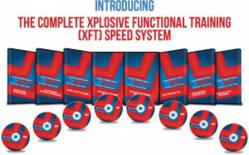 The Complete XFT Strength is available for $17.00.
(PRWEB) October 02, 2012
C.J. Easter, B.S. MS & E/CPT is introducing http://www.xftstrengthsystem.com. The website highlights Easter's XFT Strength System. The system is designed to help football players or coaches who have no time, no equipment, and a limited budget. Easter is a former Stanford football player who is known as a speed and strength training expert. The Complete XFT Strength is available for $17.00. The product comes with an ironclad, 100% Money-Back Guarantee.
The XFT Strength System was exclusively designed to help coaches and athletes reach their full potential. Coaches across the country will find this product helpful because it is easily accessible, affordable, and developed by a professional football player.
The XFT Strength System package is only available on C.J. Easter's website. The XFT In-Season Strength System is for the coach who wants to develop a team that finishes in the fourth quarter, gets faster and stronger as the season gets longer, and keeps his best players on the field and injury-free. The XFT Strength System is instantly accessible, with downloads for every manual and worksheet.
"C.J. Easter's product is something every football player needs," says Helene Vece, CEO of JumpStart Ink and Public Relations Manager for the XFT Strength System. "This product is a risk-free, essential part of improving a player's strength."
The XFT Strength System will help football coaches teach strength. The completely "done-for-you" program has exact sequence and progression of every drill. Buy today, use today. Coaches can buy it, print it, and use the scripts on the field immediately. Members of the media are encouraged to contact C.J. Easter or Helene Vece for a gratis copy. Interviews with C.J. Easter are available for qualified members of the press. More info can be obtained by visiting: http://www.xftstrengthsystem.com