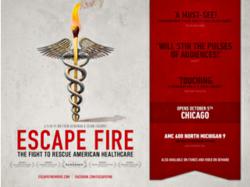 Through the personal plights of patients, Escape Fire skillfully depicts how a badly broken health care system will affect us all.—Barbara A. Otto
Chicago, Ill (PRWEB) October 01, 2012
Health & Disability Advocates will host the Chicago premiere of Escape Fire: The Fight to Rescue American Healthcare on October 5 to mark the organization's 20th anniversary as a nonprofit advocacy organization. Following the screening, a panel of thought leaders in health care will lead a Q&A discussion.
Escape Fire is an award-winning film that won rave reviews at the 2012 Sundance Film Festival. The film pulls back the curtain on the defects in the American health care system and encourages low-cost preventative solutions for fixing the health care crisis. The premiere will be held on Friday, October 5 at 5 p.m. at AMC Loews, at 600 N. Michigan Ave. Chicago, and tickets can be purchased on Health & Disability Advocates' website.
"Ahead of the presidential elections, health care—and health care reform—is one of the nation's most pressing issues," says Barbara A. Otto, CEO of Health & Disability Advocates. "Through the personal plights of patients, Escape Fire skillfully depicts how a badly broken health care system will affect us all, and gives praise to physicians and other leaders who are working tirelessly to transform healthcare across the board," says Otto, who also serves on President Obama's Advisory Group on Prevention, Health Promotion, and Integrative and Public Health.
Health & Disability Advocates has helped create every major state health care program in the last decade, providing more than half a million vulnerable people with health coverage. Staff attorneys also won a landmark class action, Memisovski v. Maram, which led to improved health care services for low-income Illinois children.
The agency's impact extends outside Illinois, having worked with more than 40 states in the design and implementation of health care programs for vulnerable populations, especially for those with special health care needs. Health & Disability Advocates also spearheads Think Beyond The Label, a collaborative aimed at increasing awareness around disability employment.
"In its two decades of extensive policy work, direct client services and training programs, Health & Disability Advocates has successfully addressed many of the disparities and barriers in the health, employment and education systems to ensure the best outcomes for Americans, wherever they live, learn, work and play," says Stephani Becker, a senior policy analyst at Health & Disability Advocates who runs Illinois Health Matters, a non-partisan digital hub for health care reform news in Illinois.
About Health & Disability Advocates
Health & Disability Advocates is a state and national policy and advocacy organization that promotes income security, enhances educational and work opportunities, and improves health care access and services for low-income children, people with disabilities and older adults. The agency's current family of initiatives includes: IllinoisHealthMatters.org, Chicago Medical-Legal Partnership for Children, SSI Homeless Outreach, Illinois Connections: Assisting Veterans and Military Families, Make Medicare Work and ThinkBeyondtheLabel.com.
###