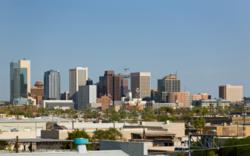 Scottsdale, Arizona (PRWEB) October 02, 2012
The crash of 2008 took its toll on the entire nation, but job loss was not evenly spread amongst the states. Before the recession, Arizona was the second fastest growing state for jobs. After, 10 percent of jobs were lost – making the Grand Canyon state second only to Nevada in job loss.
Now, Arizona is climbing its way back towards the top. The Mesa-Phoenix-Scottsdale area is in the top five metropolitan areas in the nation for forecasted job growth in the fourth quarter of 2012.
A report by ManpowerGroup revealed encouraging statistics for Arizonans seeking jobs:

24 percent of companies plan to hire between October and the end of the year
66 percent intend to keep their staff the same size
Only 7 percent stated that their workforce would decrease
Though there's a huge gap to fill to get pre-recession employees back in the work force, the growth is a much needed step in the right direction.
Growing Job Markets that Can Secure Arizonans' Futures
According to AZ Central, companies like Macy's, Walmart, Circle K and Lowes have added over 5,000 jobs to Arizona in the past year. For those seeking jobs beyond retail, the health-service and education industry are expected to add 21,800 jobs in the next two years.
Another emerging market in the Phoenix Metro Area is technology. Creeping up quietly on Silicon Valley, major companies like Go Daddy, Intel and Blue Global are using the nation's high-tech momentum to generate quality, high paying Arizona jobs.
A search in Monster.com revealed 854 jobs were posted in the "technology" category in Phoenix.
A broadened search covering a 200-mile radius around Phoenix reveled that a number of tech-savvy positions are currently up for grabs:
436 in computer programming
195 in online writing
104 in online marketing
51 online sales
44 in web design
19 in search engine marketing (PPC)
16 in search engine optimization
While Arizona's Internet-based jobs may be still budding, the online world is opening a vast opportunity up for those seeking sustainable careers in a fast-moving environment. Research by Mckinsey revealed that for each job lost to technology-related efficiencies, 2.6 jobs have been created by the Internet. The global economy is becoming more infused with the online world and Internet-based companies will be the pillar of modern day employment. And as Arizona continues to be a flourishing tech hub, the opportunity in this industry will continue to grow.
Blue Global, a Scottsdale product development company, is currently hiring a web developer and will continue to add high-tech jobs as the Inc. 500 company grows.