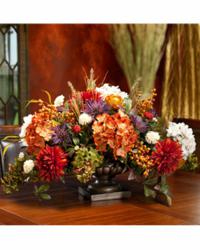 Our centerpieces become part of a family's Thanksgiving tradition.
White Plains, NY (PRWEB) October 05, 2012
Hosts of the traditional Thanksgiving meal can check one box off their busy to-do lists by turning to Silkflowers.com for the perfect table centerpiece. The company offers a wonderful selection of eye-catching silk floral creations – centerpieces, arrangements and accents – in warm autumn tones, ideal for the Thanksgiving holiday.
"Not only do our products look amazingly lifelike, they last and look beautiful for years," Tim Hennessy, co-founder of Silkflowers.com, said. "Busy hosts save time and money by displaying our products annually. Our centerpieces become part of a family's Thanksgiving tradition; just as the same favorite dishes are served year after year, tables are adorned with a memorable floral creation that adds that final elegant touch to the feast."
Best-selling centerpieces include the stunning Mums, Hydrangea and Berries ($329), the Fuji Mum and Cone Hydrangea ($199), and the Zinnia, Gerbera Daisy and Lily ($149). Smaller table settings may be adorned with the popular Lily and Ranunculus Bouquet ($99) or the classic Hydrangea Nosegay ($59), a compact arrangement of gorgeous blooms in rich autumn tones of basil/moss, rust/cinnamon and ruby/burgundy.
Silkflowers.com's fall collection also includes many other stylish bouquets and arrangements, from $39 to $449. The elegant Bittersweet Explosion ($159), a stunning arrangement of bahia spears, silk bittersweet and preserved grabia, adds fall flair to an entryway or living room. The Hydrangea and Gerbera Daisy Accent ($99) is also a best seller with its bold orange and red hues. The company additionally features small stylish bud vases starting at $24 and a wonderful assortment of single stems ranging from $3 to $24 for those interested in creating their own designs.
Silk florals also make wonderful gifts, from housewarmings to holidays to birthdays. Gifts purchased from Silkflowers.com are shipped directly to a recipient's doorstep and expertly packaged to arrive in perfect shape for easy display right out of the box. Unlike live cut flowers, silk flowers won't freeze or wilt due to extreme temperatures if left on a doorstep by a delivery person. A stylish gift card that may be personalized with a message of choice is also included.
For more information and high resolution photography visit http://www.silkflowers.com/pressroom. The company is also on Facebook and Twitter and it has a blog, http://blog.silkflowers.com.
Silkflowers.com is the nation's largest supplier of designer-quality silk botanicals, including floral arrangements, decorative stems, plants and trees. The company proudly offers the widest selection and inventory of beautifully designed silk creations at affordable prices, delivered directly to consumers with utmost care. Silkflowers.com's sister company, OfficeScapesDirect (http://www.officescapesdirect.com), serves the commercial market in the same manner, offering the widest selection anywhere of designer-quality silk botanicals for business interiors and commercial spaces. Both companies are located in Cincinnati, Ohio, and White Plains, N.Y.