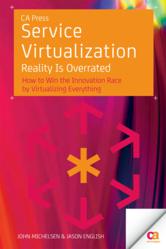 "When organizations realize how virtual development and test environments are better than real ones, they not only save money and time, but even improve their job satisfaction levels."--Author John Michelsen
SAN FRANCISCO, CA (PRWEB) October 01, 2012
Oracle OpenWorld 2012, October 1, 2012 – CA Technologies (NASDAQ:CA) today announced the release of Service Virtualization: Reality Is Overrated, the latest book from CA Press, at Oracle OpenWorld 2012 with a *free book signing.
This book is the first definitive guide to the IT and business practice of Service Virtualization (SV). It illustrates how some of the world's largest organizations can achieve new levels of agility and efficiency with this unique approach to application development and testing.
Written by John Michelsen, CA Technologies Chief Technology Officer and technology inventor, and Jason English, director of CA LISA Product Marketing at CA Technologies, and editor of the ServiceVirtualization.com website; the book details how the powerful new practice of SV captures and simulates today's complex applications.
The authors provide real-world lessons learned from organizations that have applied SV within large, complex customer IT environments--including project plans, metrics and organizational challenges.
When adopted successfully to remove constraints in the existing software environment, SV can deliver dramatic improvements to an IT organization including increased speed, performance and agility for the development of enterprise application software.
Service Virtualization: Reality Is Overrated recounts early attempts at simulations, using examples from past customer projects to help readers understand the ins and outs of SV. Insights culled from interviews with IT leaders detail how they overcame struggles with fostering and driving innovation within their enterprises.
"While Service Virtualization changes the playing field for how companies deliver innovation to market, it is not nearly as difficult to adopt as some might expect," said Michelsen. "When organizations realize how virtual development and test environments are better than real ones, they not only save money and time, but even improve their job satisfaction levels. IT teams are happier and more productive when they are spending more time on valuable, customer-facing innovation."
Readers will learn:

Why IT constraints are the enemy of business agility and how to overcome them;
The myths and capabilities of SV;
Industry best practices, case studies and results measurement techniques;
How SV can be rolled out and used for software development and testing in the cloud.
CA Technologies will host an exclusive Service Virtualization: Reality Is Overrated book signing event with authors Michelsen and English at Oracle OpenWorld 2012 in San Francisco on October 2, 2012. The event will be held from 11:30 a.m. to 1:00 p.m. PDT in the Tap and Brew Lounge (#101) in Moscone South. Attendees will have the opportunity to meet with authors and receive a copy of this innovative title.
For more information visit:
Service Virtualization: Reality Is Overrated is available on Amazon for $16.49. eBook versions can be purchased from the publisher Apress. For a limited period, an introductory price is also available. Participants in the ServiceVirtualization.com community can also qualify for a free copy of the book by participating in discussions.
*Special conditions for employees from US government bodies applies – details available on request and at the show.
About the Authors
John Michelsen is chief technology officer at CA Technologies, where he has delivered market-leading inventions delivered in database, distributed computing, virtual/cloud management, multi-channel web application portals, Service Virtualization and more. Michelsen is responsible for CA Technologies technical leadership and innovation, further developing the company's software strategy and relationships to deliver customer value. He joined CA Technologies in 2011 through the acquisition of ITKO, a company he founded.
Jason English is director of CA LISA Product Marketing at CA Technologies. Jason joined CA Technologies through the acquisition of ITKO, where he served in a number of roles including marketing, software UI design and sales support. Jason is currently focused on CA Technologies customer advocacy and sharing SV best practices and resources through the Service Virtualization community.
About CA Technologies
CA Technologies (NASDAQ: CA) provides IT management solutions that help customers manage and secure complex IT environments to support agile business services. Organizations leverage CA Technologies software and SaaS solutions to accelerate innovation, transform infrastructure and secure data and identities, from the data centre to the cloud. Learn more about CA Technologies at http://www.ca.com.
Follow CA Technologies:
Twitter @CAinc
Blogs
Social Media Page
Press Releases
About Apress
With more than 1,000 books in print and e-formats, Apress is the authoritative source for IT professionals, software developers, and business leaders all over the world. Apress provides high-quality, no-fluff content that helps serious technology professionals build a comprehensive pathway to career success. Since 2007, Apress has been part of Springer Science+Business, one of the world's leading scientific, technical, and medical publishing houses, enabling global distribution of Apress publications. For more information, please visit http://www.apress.com.
Legal Notices
Copyright © 2012 CA. All Rights Reserved. One CA Plaza, Islandia, N.Y. 11749. All other trademarks, trade names, service marks, and logos referenced herein belong to their respective companies.
CA Press Contact:
Tariq Ahmed
CA Technologies
Tel: +44 (0)1753 241 069
tariq.ahmed@ca.com
Apress Press Contact:
Christine Condon
Apress
Tel: 212-620-8021
christinecondon@apress.com