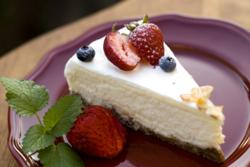 Top a delectable piece of frozen cheesecake with almonds and berries to make the perfect holiday dessert!
Harrisburg, PA (PRWEB) October 02, 2012
Thanksgiving, Hanukkah, Christmas, New Year's…the holiday season is always busy as you celebrate special occasions and entertain friends and family. But the holiday season can also bring an unwelcomed guest – stress.
Health professionals have many suggestions for staying healthy over the holidays. They include: planning ahead and taking time for yourself. The National Frozen & Refrigerated Foods Association (NFRA) suggests that the "cool aisles" of your local grocery store have many "secret weapons" to make your holiday food preparation and entertaining less stressful and more enjoyable. Frozen and refrigerated foods provide the perfect opportunity for planning ahead for the upcoming holidays and allowing you to spend less time in the kitchen and more time for yourself.
NFRA recommends stocking up your freezer and fridge with:

Delicious breakfast selections – waffles, pancakes, eggs, cheeses and breakfast sandwiches; combine fruit with yogurts and juices for smoothies to make holiday mornings even more fun.
Super snacks and appetizers – cheeses, dips, egg rolls, shrimp, pizza, wings and meatballs; serve on an attractive platter and let the party begin.
Dinner plans – the frozen aisles offer a variety of fully-prepared entrees – they can be on the table for your family in minutes for busy shopping nights.
Side-dish pleasures – ready to heat-and-eat vegetables, potatoes and breads, can make holiday meals less work.
Delightful desserts – stock the freezer and fridge with delicious pies, cakes, ice cream, puddings, whipped toppings and ready-to-bake cookies; sure to please your family, friends and guests!
For more tasty ideas, recipes and information on frozen and refrigerated foods, visit http://www.EasyHomeMeals.com, and or http://www.facebook.com/EasyHomeMeals.
NFRA is a non-profit trade association representing all segments of the frozen and refrigerated dairy foods industry in promoting the quality and convenience of frozen and refrigerated dairy foods to consumers across the country. Through national supermarket promotions like March National Frozen Food Month, June Dairy Month, June/July Ice Cream & Novelties and October Cool Food for Kids, as well as the EasyHomeMeals website and Facebook page, NFRA encourages family mealtime and healthy lifestyles and provides important consumer information about frozen and refrigerated dairy foods, including food safety, meal ideas, recipes and more.