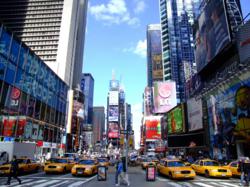 Just pick up my rental with no prior notice? That's great!
Pearland TX (PRWEB) October 11, 2012
Telecom Square USA has been renting a Mobile WiFi Hotspot to customers in the USA for a while now. They are ready to expand and are ready to handle more customers. So Telecom Square USA has opened an office in New York to help them accomplish these goals. This office is ready to satisfy the New York traveler's need for internet much easier now. Telecom Square USA thinks this is just the beginning of their expansion. Just when people thought they couldn't make renting any easier, they found a way.
This office is located right off Madison Ave. in the heart of New York. This puts them a great place to provide people with rentals. This office can handle as many rentals as it gets, and people will be able to pick up and drop off rentals at this location. The General Manager "" is eager to help the people of New York stay connected. Using this office will help people rent devices in this area much more easily. They will have devices ready to rent there, so you don't even have to set up your rental ahead of time! So if people had an unexpected trip to New York pop up, they can still get internet while they are there, they can even take it with them around the USA after picking it up there, and return it when done. Needless to say, the New York office will help Telecom Square USA's customers greatly.
Anyone who hasn't heard of renting a Mobile WiFi hotspot yet it is simple. Just place an order to receive a Mobile WiFi Hotspot, then take it with you while you travel. This will provide users with unlimited wireless internet they can use while traveling. Telecom Square really does bring the industry to another level with their services. Renting a mobile WiFi hotspot from them is a great way for travelers to stay connected. They have one of the least expensive and most competitive prices available. Their dependable customer service can't be beat. They have fast reliable speeds available, depending on the country users can even get 4G LTE (that is speeds of up to 7.2Mbps!). This service is available for use in many different countries, including the USA, Japan, China, and the United Kingdom just to name a few. They have various discounts available, and currently all rentals are discounted from $14.95 to $12.95. All the accessories that may be needed for renting a mobile WiFi are available. There is insurance, small batteries, and large batteries to make using this service as easy and secure as possible. All this and more is available to users when they rent from Telecom Square USA.
Telecom Square USA's rental is $12.95 per day to rent a mobile WiFi, and people can stay connected everywhere they go. Telecom Square USA is proud of their great service. They are a dedicated to their customers. Their main office is in Japan, where they have been providing this service for over 20 years. Making it the second largest company in this industry worldwide.