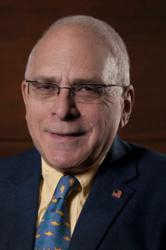 New York, NY (PRWEB) October 01, 2012
Best Lawyers, the oldest and one of the most highly-respected peer review publications in the legal profession, has just named Alan J. Konigsberg, a successful New York product liability attorney, the "Lawyer of the Year" in the area of plaintiff's product liability litigation for the year 2013.
Alan J. Konigsberg is a senior founding member and the managing partner at Levy Phillips & Konigsberg, LLP, a nationally recognized trial firm with offices in New York, New Jersey, and Georgia. The firm itself has been listed in the U.S. News/Best Lawyers' "Best Law Firm" edition in the category of plaintiff's product liability, personal injury, and mass tort litigation. Alan heads the firm's product liability, infant lead poisoning, medical malpractice, personal injury, as well as whistleblower sections.
For over 40 years, Alan has devoted his practice to representing people injured by defective products, lead poisoning, dangerous work conditions, toxic substances, poorly maintained construction sites, and inadequately secured commercial property.
Alan also represents whistleblowers who expose fraud against the government, including Federal, State, and City governments, in the areas of health care, defense contracts, and educational grants, to name a few. In addition, Alan represents whistleblowers who expose corporate securities fraud, commodities market fraud, and tax fraud. He recently concluded a government fraud case, which was settled for $70 million.
Alan has obtained many seven-figure recoveries in a variety of cases, including inadequate security in an urban shopping mall, inadequate security in an apartment building. Further, Alan has successfully litigated and obtained seven-figure results in cases involving defective commercial aircraft, private aircraft, and automobiles.
He has specifically represented infants who have sustained brain damage, cognitive injuries, and learning disabilities as a result of lead poisoning. Alan has also successfully sued many manufacturers of unsafe and defective industrial equipment.
A graduate of St. John's University School of Law, Alan is admitted to practice before the U.S. Supreme Court, several U.S. Courts of Appeals, and many U.S. District Courts.
Alan is a recognized national speaker on personal injury and aviation law. He is a member of The New York City and State Bar Associations, The New York State Trial Lawyers Association, The American Association for Justice.
He has also been recognized by Super Lawyers, another reputable professional rating service, for his accomplishments in the areas of personal injury, product liability, and mass tort litigation. Alan's four firm partners, all nationally-acclaimed mesothelioma lawyers, have also been recognized by both Best Lawyers and Super Lawyers in their respective areas of practice.
For more information about Mr. Konigsberg or his firm's history and professional accomplishments, please call 24/7 at (212) 605-6200 or visit the firm's website at http://www.lpklaw.com.