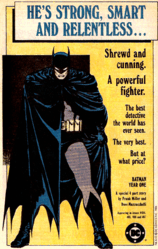 (PRWEB) October 02, 2012
Batman Year One is analyzed in a special Batman blog published by Donny Lowy, an avid comic book collector involved in the wholesale and closeout business, through his website, CloseoutExplosion.com
In his Batman Year One site he analyzes various aspects of the famous comic book written by the esteemed comic book writer Frank Miller. Frank Miller, as many Batman fans know, is the infamous artist behind The Dark Knight Returns.
"What I have always found unique about Batman Year One is how it presents the Batman character as he would live in our reality. Instead of the character simply being a product of fantasy, his origin and development in this Batman story are a consequence as to how an individual might be impacted by a dramatic event which personally affected him at a young age. The art, as well as the writing, brings the comic book reader to the streets of a dark Gotham that highly resembles New York City back in its infamous Times Square 1970's stage," said Donny Lowy.
The website will provide an ongoing in depth look at various facets of the the comic book series which marks the beginning of this mature version of the Batman. Comic book fans who grew up in the 70's and 80's will definitely appreciate this nostalgic look at an era that has quickly become forgotten as the heart of Manhattan underwent its current Disney like redevelopment.
"I especially recommend Batman Year One to all collectors of Batman comic books who want to see first hand the point at which the transformation of the comic book industry into an integral part of modern pop culture began. In my opinion, the creative concepts that originated in Frank Miller's artistic mind have influenced some of today's best comics and movies," commented Donny.
Since the day Batman Year One was published, followed later on by Batman Year Two and Batman Year Three, comic books have taken a completely different course than when published in the Golden Age and Silver Age. Through his site, Donny Lowy will study elements of this Batman masterpiece which have been overlooked, and hope to draw lessons through which we can make better decisions. Although it is important to remember that comic books are works of fiction, it is often easier to draw productive conclusions through the study of a fictitious subject matter since there are no invested emotions.
"If you are looking for a great read to augment your appreciation of Batman fiction, or want to take a more scholarly look at the Batman character, this website can provide you with an enjoyable experience," concluded Donny.