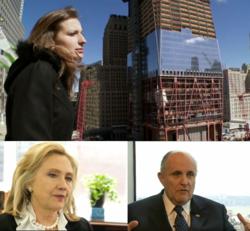 New York, New York (PRWEB) October 01, 2012
Production for the new short documentary short film about resilience in the face of tragedy is almost complete. Committed to Memory profiles Monica Iken and September's Mission, the organization she started when her husband Michael was killed on 9/11/01 in the attack on the World Trade Center. Instead of retreating into grief she responded to her loss by turning outward in an effort to help others and ensure that an appropriate memorial would be built on the site. With the September's Mission organization, she organized assistance for 9/11 victims' families and advocated for the memorial that was completed in 2011.
The Committed to Memory film is intended to inspire those facing their own tragedies to act likewise. As part of the National September 11 Memorial Museum media collection, it will be screened frequently at the museum to demonstrate how positive change can emerge from great loss. Critical funding is being sought to finish the final stages of the film. Contributions to this historical film can be made at Kickstarter.com and all funds go directly to finishing the film and helping secure its permanent place in the 911 Museum.
Committed to Memory explores the notion of resilience to trauma and why individuals like Monica are motivated to respond to loss by turning selflessly outward. It contains interviews with Secretary of State Hillary Clinton, Mayors Michael Bloomberg and Rudolf Giuliani, former Governor George Pataki, as well as other who struggled in the years following 9/11.
On the early morning of 9/11/01 Monica Iken was an Elementary school teacher in New York looking for a teaching job. The killing of her husband Michael in the World Trade Center transformed her within days into a determined and effective activist. With an unshakable commitment to her "mission" she learned how to interact with and influence politicians, corporate leaders, 9/11 family members, and the public. She and her September's Mission Foundation gained the respect of Governors, Senators, Mayors, as well as ordinary New Yorkers. Her journey is an example of the impact one persistent person can have.
The final version of the Documentary will be Screened by Tribeca Film along with the Opening of the 9/11 Museum. Filmmakers Jonathan Fein and Henry Felt are telling her story. Fein produced and directed Objects and Memory, a documentary film about responses in the aftermath of 9/11 and other recent historical events. The film, which was PBS's national, prime time special in commemoration of both the seventh and tenth anniversaries of 9/11, explores how we preserve the past and speak to the future.
Felt has been making film and video for over 40 years. Most of his work has centered around issues of education and social responsibility. He is most proud of his work with the Annie E. Casey Foundation for over a decade. He has won numerous awards during his career.
For more information about September's Mission and the documentary Committed to Memory contact Monica Iken. To make a contribution visit Kickstarter.com