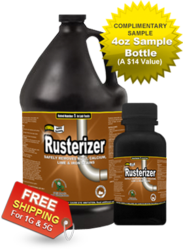 Because the product [Rusterizer] is safe, apart from metal, it can be used on anything made of wood, plastic, concrete.
Seattle, WA (PRWEB) October 08, 2012
Rust removal is the way to save an item from corrosion damages. If it isn't implemented, it could completely ruin an item, especially if it is iron-metal made. However, to get it done right, Rusterizer said that one must use a proven safe and effective rust remover. And as backed by its clients, it asserted that its non-toxic rust removal spray is the best that rust sufferers could get.
Test the Best Non-Toxic Rust Spray's Effectiveness. Get a Sample of It Today
In implementing a rust treatment, a rust removal product is an essential help. Without it, the process will take too much time and work. Primarily, that's because it will require hours of scrubbing.
However, with a rust removal spray, it is much easier to complete the treatment. Most rust products just require direct application of them to the rust or rust stains to work. And because that makes the process easier, any rust sufferer could also finish it faster.
But there is a problem. Most of today's rust removers are made with strong chemical ingredients that are harmful to health and the environment. The use of those products, therefore, presents a risk to the user and anybody else that could be exposed to them.
As a green cleaning company, Rusterizer got a solution to that problem – green rust removal product. With a non-toxic solution, one can now get rid of rust or its stain without worrying about risking anybody's health and needing to evacuate. And that also makes the process hassle-free apart from safe and effective.
Of all the non-toxic rust removers there are though, Rusterizer believes that its own rust spray is the best. That's because apart from safe, it vows that the solution is also effective. It said that the loyal consumers of it can prove that true.
Find Out Rusterizer's Advantages Over Other Rust Removers
Also named as Rusterizer, the said non-toxic rust removal product was initially available to a small number of private companies. But after getting positive reviews, the company decided to release it to the public. So now, anybody – homeowner or contractor – can get rid of rust safely, effectively and even inexpensively.
In fact, its users can also get savings from Rusterizer, said a company representative. Because the product is safe, apart from metal, it can be used on anything made of wood, plastic, concrete. That basically eliminates the need to spend more for other rust sprays for different materials. Because it also does not present health risks, one is also spared from possible medical expenses.
And more than that, Rusterizer, the company, also just recently opted to ship its said green rust remover for free. The rep said through it, the company would like to express its gratitude for the trust of anybody who will purchase its non-toxic rust removal product. However, the free-shipping is a special only for a limited time. And so, it encourages consumers to get hold of the product today for big savings.
Take Advantage of Rusterizer's Free-Shipping Special. Order the Non-Toxic Rust Remover Now