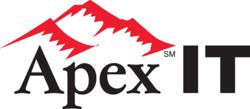 Minneapolis, MN (PRWEB) October 01, 2012
Oracle today awarded Apex IT with its 2012 Oracle North America Excellence Award for Specialized Partner of the Year in the Customer Relationship Management (CRM) category.
The Oracle Excellence Awards for Specialized Partner of the Year - North America encourage innovation by Oracle PartnerNetwork (OPN) members, who use Oracle's products and technology to create value for customers and generate new business potential.
The award reflects Apex IT's success in adopting OPN's Specialized approach which is aimed at enabling partners to establish industry recognition by following a formal process to become Specialized in key Oracle solution areas.
Apex IT was presented the 2012 CRM Excellence Award for demonstrating an outstanding and innovative solution for Green Mountain Coffee Roasters, Inc. (GMCR) based on the latest Oracle product, Fusion CRM. Oracle Fusion CRM, a component of the Oracle Fusion Applications suite, is a SaaS or On Premise application focused on driving better marketing and sales performance.
"Throughout the duration of the project, Apex IT worked collaboratively with GMCR Green Mountain Coffee Roasters helping to guide them through their implementation", said Chris Rapp, CEO, "As leaders of the Fusion space, our work with GMCR provided valuable insight for our future Fusion projects."
"Apex IT has demonstrated an outstanding level of innovation in delivering proven, Oracle-based Fusion CRM solutions that solve our joint customers' most critical business challenges," said Lydia Smyers, group vice president, Worldwide Alliances & Channels Programs and Communications, Oracle. "We congratulate Apex IT in achieving the 2012 Oracle Excellence Award for North America Specialized Partner of the Year in Customer Relationship Management. This achievement is a testament to their dedication to excellence and to providing customers Oracle Fusion services that drive real business value and results."
About Apex IT
Founded in 1997, Apex IT has grown continuously, but the mission has stayed the same: to help public sector, corporate, and higher education clients use technology to streamline their processes and increase productivity and profitability. To date, Apex IT has completed more than 1,150 engagements around the globe, helping clients with everything from strategic guidance to implementation to long-term direction. Apex IT is dedicated to staying ahead of the competition in offering clients the People, Processes, and Technologies that will meet their changing demands.
About Oracle PartnerNetwork
Oracle PartnerNetwork (OPN) Specialized is the latest version of Oracle's partner program that provides partners with tools to better develop, sell and implement Oracle solutions. OPN Specialized offers resources to train and support specialized knowledge of Oracle products and solutions and has evolved to recognize Oracle's growing product portfolio, partner base and business opportunity. Key to the latest enhancements to OPN is the ability for partners to differentiate through Specializations. Specializations are achieved through competency development, business results, expertise and proven success. To find out more visit http://www.oracle.com/partners.
Trademarks
Oracle is a registered trademark of Oracle and/or its affiliates.