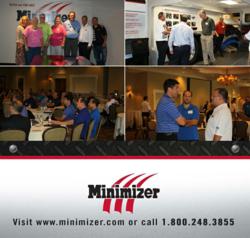 Blooming Prairie, Minnesota (PRWEB) October 01, 2012
On Thursday, August 16, 2012 at Somerby Golf Course in Byron, Minnesota, Minimizer hosted its first ever Partner Conference.
Having never before hosted a partner conference Minimizer management felt it was time to gather both vendors and distributors in one location for a comprehensive review of the company's supply and distribution channels. Minimizer also wanted to review the company's strategic growth and product mix planning with all major partners.
"Over the past several years we have made significant investments in our physical plant, product mix, and sales channels," said Craig Kruckeberg, Minimizer's Chief Visionary Officer, "We are starting to realize significant growth rewards and we felt it was time to bring together the external partners that have gotten us here and who will get us to where we want to go in the coming years."
The day consisted of a morning filled with strategic planning reviews, product introductions, and sales channel design as well as partner awards. Lunch followed and included an introduction of the new Minimizer Innovation & Trailing Trailer. In the afternoon Minimizer hosted a golf scramble on the award-winning Somerby Golf Course. The evening brought an awards banquet, closing remarks from Minimizer management and a look at some new Minimizer promotional videos.
Review comments from both vendors and distributors were very positive:
"Minimizer is on the cutting edge," said Andrew Rapkin of Component Sourcing who found the day productive, "They envision change – from product innovations, to new technologies, to a holistic relationship with their customers and suppliers as good as any customer we've had. We are proud to be a part of their rocket ship as it starts to take off!"
Wade Hershley of US Bank said, "The Minimizer Partner Conference was very impressive. The venue was great, the food was great, and the meetings were very informative. The best part was the enthusiasm and vision displayed by Minimizer and I'm excited to see how far they can go."
"It was great to learn more about Minimizer's products and distributors. The day was well organized and first class," said Brad Theisen of EideBailly, Minimizer's accounting firm.
Mike Kingland of IFACS, when asked about the day concluded, "It was a good time and a great way to keep in touch with vendors and customers. Keeping us up-to-date on Minimizer's vision and plans for the future helps develop future goals for our company. Ultimately this event, with the camaraderie of the golf, presentation, and dinner was very helpful in growing our business with Minimizer's."
"Everything was fabulous, " said Laura Lunde of Manpower, "The Innovation & Training Trailer was really impressive and the venue was awesome! Overall it was a great group of people. I made a lot of new connections and even met Minimizer staff that I haven't met yet."
James Fiebiger from Farmers & Merchants State Bank summarized: "The Minimizer meeting was very informative and professional. I think it is a brilliant idea to bring in your industry partners and allow them to assist in the development of new products; products for which they see a need. Informing them that you have the technology and equipment to produce prototypes in hours that would normally take months of research and development is just plain smart. Not only does it develop partner loyalty but also allows Minimizer to leverage the entrepreneurial ideas of all their partners. It also builds a sense of ownership/pride in any future development you may have."
Minimizer fenders will enhance the performance of all makes and models of over the road trucks, construction vehicles, or agriculture equipment. Enhance and protect your vehicle with Minimizer products. The toughness is unmatched as seen on this Minimizer promotional video entitled "Tested & Tortured".
For more information or to contact a dealer, call us at (800) 248-3855 or visit our website or email us at info(at)minimizer(dot)com.
About Minimizer
Headquartered in Blooming Prairie, Minnesota, USA, Minimizer manufactures poly truck fenders, poly toolboxes, customized mud flaps, and bracket kits. Family owned and operated for nearly three generations, Minimizer parent company Spray Control Systems, Inc., was founded in 1983. Minimizer aims to provide products tough enough to please tough people in a tough industry. For more information call (800) 248-3855 or visit http://www.minimizer.com.