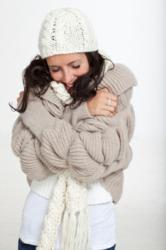 I like to match corduroy pieces with items that are also made from fall winter fabrics.
(PRWEB) October 12, 2012
Rodeo Drive Resale (http://www.shoprdr.com), premier reseller of 100% authentic Louis Vuitton bags and Christian Louboutin pumps, highlights earth tone pieces sure to be a hit during the fall fashion season.
CAMEL TURTLENECK: One item that should come as a surprise to no one when talking end-of-the-year fashion is the turtleneck, a classic fall piece that is both stylish and comforting. At shopRDR.com, buyers looking for discounts on luxury turtlenecks and sweaters need look no further than the site's expansive collection of tops by St. John Knits. Camel is a wonderful earth tone color that works well with medium or dark-toned skin.
OLIVE CARDIGAN: "Cardigans for me are like your BFF, your best friend forever, because they're seasonless, they're great when you want to have nice coverage, look stylish and it will always fit because it's made out of knit!" Designer and "Project Runway" winner Chloe Dao said in an interview posted on Livewellnetwork.com. "The classic cardigan can be sexy, stylish and even slimming. There's one for every body type and every occasion." For those looking for the best deals in designer cardigans, stores such as shopRDR.com give shoppers the option to buy and sell luxury designers with savings on pre-owned Christian Dior, Yves Saint Laurent, and more.
ORANGE CORDOUROUY SKIRT: One notable piece making its annual return to the fashion forefront in the fall are corduroys. Typically reserved for the cooler portion of the year, corduroys come in a variety of styles and colors. For a bold look, consider a corduroy skirt. "I like to match corduroy pieces with items that are also made from fall winter fabrics. Corduroy is a weighty fabric so mixing and matching it with other cozy fabrics like wools, cashmeres, and soft cottons make for great combinations," said stylist Natalie Ogura on the Web site ehow.com. Orange works well with most skin tones, so take a chance!
Many popular fall fashions are readily available through online consignment stores like shopRDR.com. Consignment shoppers typically come across brands that are difficult to find in thrift stores.
"Thrift store shopping usually consists of donated goods whereas consignment shopping is usually designer or high quality goods that retain a better resale value," Raya Jaffer, style expert and Co-Founder of Rodeo Drive Resale explained earlier this year. Designer discount newbies are often unaware of this major difference between thrift items and merchandise sold on consignment, which can lead to a bit of confusion.
At Rodeo Drive Resale, buyers can search new arrivals online from well-known fashion houses such as Gucci, Prada, Jimmy Choo and more. Depending on the popularity of the site, sellers may range from individual clients, high profile celebrities or even actual boutiques, and unlike other resale stores, consignment stores are a bit more discriminating in items they are willing to accept. This means fall favorites such as cardigans, boots and blazers are likely to be in better condition when purchased through consignment.
Rodeo Drive Resale (shopRDR.com) has built a reputation of providing amazing deals on handbags, clothing and accessories from the top designers of upscale fashion. The company offers a 100% guarantee of authenticity on each item sold, and works daily with a network of clients looking to buy, sell, or for consignment of their luxury goods.
ShopRDR.com loves high-end fashion, and believes finding a high quality, classic piece should be an easy, enjoyable -- and most importantly -- hassle-free shopping experience. For the finest in Louis Vuitton, Chanel, Prada, Gucci, St. John Knits, Christian Louboutin, Tiffany & Co. and more, visit RDR online at http://www.shopRDR.com or call 1-888-697-3725. Also find shopRDR.com's blog at http://blog.shopRDR.com.
Also find shopRDR at:
Blog: blog.shopRDR.com
Facebook: facebook.com/shopRDR
Twitter: twitter.com/shopRDR
YouTube: youtube.com/ shopRDR
Pinterest: pinterest.com/shopRDR
Rodeo Drive Resale (shopRDR.com)
1-888-697-3725
service(at)shopRDR.com