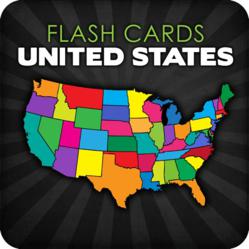 Portage, MI (PRWEB) October 01, 2012
The team at Learning Gems, creators of educational apps for children, will soon announce the launch of Flash Cards - United States, an interactive game for tablets that will aim to supplement the U.S. geography curriculum taught in elementary schools.
In this interactive game with fun, eye-catching graphics, children will learn the shape and location on a map of each of the United States. The app will also provide practice with learning each state's capital, flag and other facts helpful for beginner-level geography students.
In a world driven by technology, children are inevitably drawn to devices used by their parents including cell phones and tablet devices. Therefore, the Learning Gems team strives to create educational apps that are fun and grab a child's attention. All apps created by the team of programmers, school teachers, graphic designers and copywriters are focused on common core curriculum a child would encounter throughout all grade levels in elementary school.
A variety of apps for elementary-aged children are available from Learning Gems and can be downloaded to tablets and smartphones from the Apple, Amazon Kindle, Barnes & Noble and Samsung app stores and also on Google Play. Available from the imaginative team are a line of spelling apps useful for 1st through 6th graders that features an intergalactic theme, apps that allow practice of basic concepts, such as colors, shapes and U.S. coins, educational apps for math practice and also memory games that aim to stimulate the brain in a different way.
Educational apps are great for children and enjoyable for adults as well. They are useful in elementary schools, for homeschooling and as extra practice outside of the classroom.
Based in Portage, Mich., Learning Gems is a venture of Blue Fire Media, a web design and development company that also offers web marketing and SEO.